ANNAPOLIS, Maryland: China and the US have made substantial progress in resolving contentious issues such as currency and trade deficit, Vice-Premier Wang Qishan said at the opening of the fourth Strategic Economic Dialogue (SED) Tuesday.
The two countries should adopt a patient approach and avoid "complicating and politicizing economic issues", he said.
"Our cooperation is an irreversible and unstoppable current. China needs the US, and the US needs China."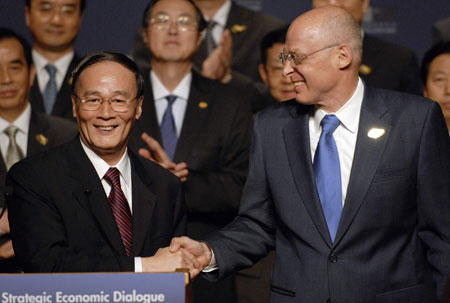 Chinese Vice Premier Wang Qishan (L) and US Treasury Secretary Henry Paulson (R) shake hands after opening remarks at the start of cabinet-level meetings at the Strategic Economic Dialogue at the US Naval Academy in Annapolis, Maryland, June 17, 2008. [Agencies] 
The meeting is being held on the US Naval Academy's campus in Annapolis, Maryland. Wang and US Treasury Secretary Henry Paulson are co-chairing the SED as special representatives of President Hu Jintao and US President George W. Bush.
The two-day talks are expected to focus on the challenges the two countries face because of rising energy and food prices.
An agreement on energy and the environment is expected to be the major achievement of the dialogue.
The US and China must increase cooperation on energy because of the increase in demand for and record high prices of oil, Paulson said.
"As the two largest net importers of oil, China and the US face similar challenges as the demand for energy increases."
This is the fourth time Paulson is heading a delegation of US cabinet officials at such a conference. The Chinese team is led by Wang, who took over after Wu Yi retired earlier this year.
China's high-profile delegation at the talks includes the ministers of finance, environment and commerce, Xie Xuren, Zhou Shengxian and Chen Deming, and central bank governor Zhou Xiaochuan.
And the large US delegation consists of the secretaries of commerce, labor, and health and human services, Carlos Gutierrez, Elaine Chao and Michael Leavitt.
Hoping the next US administration would continue the dialogue, Paulson said the SED has produced a lot of results. The two countries should continue the dialogue at least for the sake of the global economy.
"The US and China don't always agree on economic issues. Sometimes we may disagree quite strongly but we keep talking."
Major business groups such as the National Association of Manufacturers, the US Chamber of Commerce and the Financial Services Forum believe the high-level talks should continue because they will benefit both the countries.
Agencies - China Daily