Developed nations should not blame the developing countries for the rising demand for food and the surge in food prices across the globe, China's top agricultural official said Wednesday.
Minister of Agriculture Sun Zhengcai said that as a developing nation, China has contributed greatly to world food security by providing for nearly a quarter of the world's population.
Some developed countries have blamed developing countries, including India and China, for the global food crisis.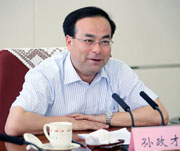 Sun Zhengcai
"The surge in food prices has been caused by multiple factors," Sun told the high-level conference on World Food Security, which began in Rome on Tuesday.
He blamed rising crude prices, climate change and speculation for the food crisis.
"It's not right to attribute the growing demand for food worldwide to the growth of developing countries or to specific policies of some countries."
The UN Food and Agriculture Organization (FAO) is hosting the three-day summit at a time when the world is experiencing a dramatic rise in food price.
Food security is facing a threat from non-traditional sources, too, such as biofuels. More and more food products, especially corn, are being used to make biofuels, and this has the potential of creating more far-reaching problems.
A report jointly issued by the FAO and the Organization for Economic Cooperation and Development recently said the major reason behind the surging food prices is the increase in biofuel production by some developed countries.
Sun said China has succeeded in providing for its 1.3 billion people mostly from its domestic production. "And it has the capability to ensure long-term food security from domestic production."
Thanks to its preferential agricultural policy, the country has reaped a bumper harvest in the last four years, with its production crossing 500 million tons last year.
China is committed to contributing to world food production and agriculture. "The country is using its expertise in agriculture, such as cultivating hybrid rice, to help other developing countries to increase their food production," he said.