Overwhelmed by media coverage of the deadly quake that hit Sichuan province on May 12, graduate student Shi Yan stopped following developments of the disaster on news websites for 10 days.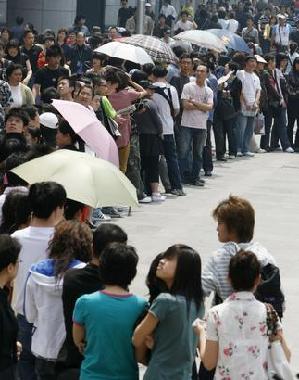 Chinese residents queue up to donate blood for quake victims in Beijing, May 15, 2008. [Xinhua]
The master's degree candidate at the China Foreign Affairs University in Beijing decided instead to visit her favorite online shopping site to browse items she loved - clothes, cosmetics and shoes.
But, for the first time, she found that she had lost interest in the products.
"I suddenly lost the desire to buy a 400 yuan ($57.75) pair of sandals," Shi said.
"I did not want to be a spendthrift."
Shi decided to donate the money she would have spent on the shoes to quake victims instead.
"I realized that safety and health are the most precious things in life," she said.
"You can never enrich your life through shopping."
She is part of the majority of respondents in a recent survey who said that the quake changed their attitude toward life.
The poll, conducted by newspaper China Youth Daily and news portal Sohu.com, showed that 88 percent of the 4,309 people surveyed thought that the quake had "changed" their lives.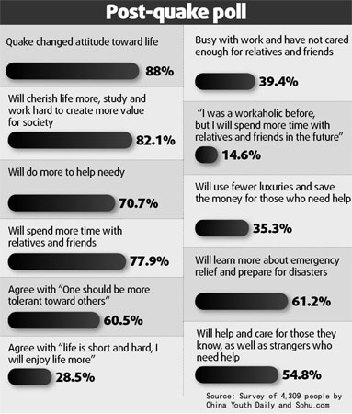 The rest of those polled said they were "not sure" of the effect of the disaster on their lives, or that there was "no change at all".
Shi was also part of the 82.1 percent of those polled who chose to "cherish life more and create more value for society" after the quake.
The results of the survey come amid changing attitudes in society over how the younger generation in the country is being perceived in the aftermath of the quake.
Those born in the 1980s and 1990s, for example, have been labeled as spoiled, criticized for lacking care for others and said to be too focused on themselves.
But many have seen a large number of young people contributing to relief efforts for quake victims. Media reports tell of parents, along with the whole country, being pleasantly surprised to see so many youngsters maturing quickly in the disaster.