Tonight a concert will mark an historic event 35 years ago.
In September 1973, the Philadelphia Orchestra was the first American group of musicians to perform in China. Led by conductor Eugene Ormandy, the orchestra played with members of the Central Philharmonic Orchestra.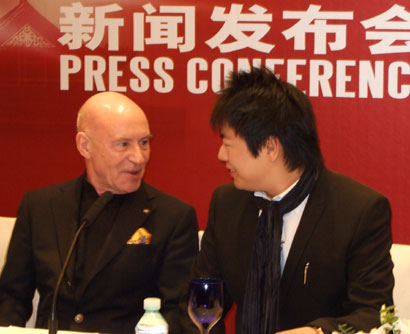 Music Director Christoph Eschenbach (L) shares a smile with pianist Lang Lang at a press conference in Beijing, June 1, 2008. They along with the Philadelphia Orchestra will perform tonight and tomorrow to celebrate the 35th anniversary of its first concert in China. [chinadaily.com.cn/by Bernice Chan]
Five years later China and the United States established diplomatic relations.
To celebrate the milestone in Sino-US relations, tonight's performance will "recreate" that concert, with two pieces of music on the program 35 years ago. This time, led by Music Director Christoph Eschenbach, the Philadelphia together with pianist Lang Lang will perform the Yellow River Concerto and Beethoven's Symphony No 6 ("Pastoral").
The concert will even be held at the same place 35 years ago, at the Cultural Palace of Nationalities, which will bring back memories to those who attended back then.
Three of the musicians who played at that time gave anecdotes of event at a press conference on Sunday.
Bass player Neil Courtney remembers how the American orchestra members were free to wander the streets and meet people. "Everyone was wearing blue or gray, but the children were wearing such colorful clothes," he recalls. "It was such a contrast but also showed that children had a bright future."
Another musician surnamed Liu from the Central Philharmonic Orchestra spoke of how the Chinese players were so nervous about being conducted by a foreigner. He also said they presented a gong to the Philadelphia Orchestra, which it still has to this day.
Artistic Director and organizer of the concert Yu Long joked tonight's venue backstage still looks like it did 35 years ago, but promised the audience won't be wearing only blue and gray, but colorful outfits.
For Eschenbach who has been to China many times, the concert not only has historic significance, but also hopes to please the audience.
"The Philadelphia Orchestra and I on many occasions have experienced the love of the Chinese people and we hope to give that back to you," he said.
Lang Lang commented the event had greater personal meaning for him. "Christoph [Eschenbach] is one of the most special people in my life – he is the one who discovered me and is my mentor." The pianist added he lives and studied in Philadelphia.
Tonight's guest list includes former US Secretary of State General Alexander Haig, Anna Chennault (Cheng Xiangmei), Chen Zhili, Vice-Chairwoman of the NPC Standing Committee, Cheng Siwei, Vice-Chairman of the NPC Standing Committee, Foreign Minister Yang Jiechi and Culture Minister Cai Wu.
The Philadelphia Orchestra will also perform tomorrow night at Poly Theater and then travel to Guangzhou on June 6 and then Shanghai for concerts on June 6 and 8.
Wanting to help the victims of the May 12 Sichuan earthquake, the orchestra has waived its broadcast fees for tonight's concert. Instead it has solicited donations from its own players and corporate sponsors, raising over $3 million so far.