Dujiangyan - The National quality watchdog Thursday warned of "severe punishment" to anyone found responsible for the collapsed school building in the May 12 earthquake.

Inspectors have taken samples of rubble to see if shoddy construction material was used, according to an official of the General Administration of Quality Supervision, Inspection and Quarantine (AQSIQ).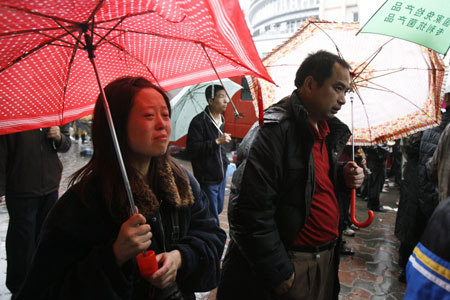 Relatives cry while waiting for news about children who were buried under a collapsed school following an earthquake in Dujiangyan City, 50km (31 miles) from Chengdu in Sichuan province May 13, 2008.  [Agencies]
"It's regretful to see so many young students die ... and inspection teams have been sent to the disaster-hit areas to take samples of school debris," Zhi Shuping, deputy director of the  AQSIQ told a news briefing. 

Zhi said the investigations had so far yielded no results, but "if they show quality problems do exist, we'll deal with those responsible with zero tolerance."
Earlier this week, the Ministry of Housing and Urban-Rural Development and the Ministry of Education ordered thorough investigations into why so many school buildings collapsed in the quake.
Many children - official figures are not available - were crushed to death in collapsed buildings. Some parents have blamed the tragedy on shoddy construction quality. The death toll from the 8.0 magnitude quake is over 68,500 and is certain to rise further, with 20,000 missing.

Lin Qiang, vice inspector of the Sichuan provincial educational department, said "seeking truth is more important than losing face."
The collapsed buildings might have been more solid "if we educational officials hadn't left loopholes for corruption", the Xinhua news agency quoted Lin as saying.
He withdrew as torch bearer in the torch relay currently snaking around China before the August Olympic Games in Beijing.
On Sunday, more than 100 parents - whose children were killed in the collapse of the Fuxin No 2 Primary School in Mianzhu city - marched downtown with placards bearing slogans and photographs of their children, questioning construction quality, Xinhua reported.
The AQSIQ also pledged swift and severe punishment for suppliers seeking to profit from the masssive reconstruction with sub-standard goods.
"Our focus will be on construction materials, such as steel bars or cement," AQSIO's Zhi told reporters.
Food, tents, makeshift houses, farming and agriculture machinery will also come under the scanner, Zhi said.
For example, quality inspectors will ensure that tents, sheets or makeshift houses are water- and fire-proof.
Donation Problems Found
However, problems have already cropped up: The AQSIQ reported Thursday that a company in Shaanxi province was recently stripped of its manufacturing license for sending a consignment of shoddy quilts to a hospital in disaster-hit areas. Also, used blankets have been discovered in international donations.
Zhi said overseas donations would be subject to the same inspection standards as domestic supplies. But he promised 24-hour inspection of foreign aid for quick clearance.
AQSIQ figures show that green lanes have been opened at 14 entry points, including all the country's major ports, to receive international aid.
Rains Hamper Work on Lake Sluice
Meanwhile, rescuers Thursday battled heavy rain to drain a "quake lake" threatening to burst its banks and cause floods.
Rain has hampered efforts by more than 600 soldiers to open a giant sluice to discharge floodwaters. Helicopters shipping in equipment were unable to take off, and some 1,000 soldiers had to carry in 10 tonnes of diesel by foot to fuel bulldozers there.
About 133,000 troops and armed police are in the disaster area, said Lu Dengming of the Chengdu Military Area Command.
China has evacuated more than 150,000 people living below the biggest of the quake lakes at Tangjiashan. It was created when landslides blocked the Jianjiang river above Beichuan, near the epicentre. 
The Finance Ministry has funnelled an extra 1 billion yuan ($144.2 million) into relief work on an estimated 35 dangerous lakes formed by landslides, in addition to 400 million yuan already alloted to work on smaller, damaged dams.
Survivors scavenge ruins
Dozens of men and women swarm over the mounds of debris of this ruined city, an eerie replay of the early days following China's devastating earthquake.
They are not searching for the missing and dead from the May 12 quake, which killed tens of thousands. Nor are they looking for lost belongings.