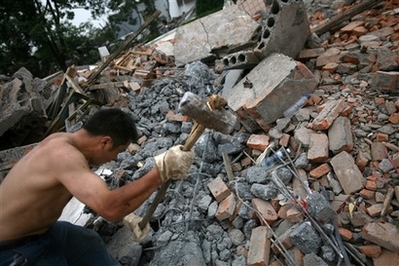 A Chinese earthquake survivor crushes the debris of his home with a sledge hammer to remove the steel bars from the cement in Hanwang Sunday, May 25, 2008. More than two weeks after the massive tremor that claimed at least 65,000 lives, the search is no longer for the missing and the dead. Instead, survivors are struggling to support their families in one of the very few ways they can --scavenging for scrap metal. [Agencies]
Instead, many are scavenging for any bit of scrap metal to sell so they can buy food and other necessities.
For the estimated 5 million homeless quake refugees in Sichuan province, the slow path to rebuilding their lives is lined with huge challenges.
Supplies of food and water are adequate for now, but shelter is limited, with a severe shortage of tents. The longer-term need for jobs and income has yet to be addressed by China's leaders.
Many refugees aren't waiting for the government; they are taking desperate measures to survive on their own.
As in other quake-hit towns, survivors in northern Qingchuan have discovered that recycling companies want the scrap metal from twisted and crumbled buildings.
Standing atop an enormous pile of rubble that was once a three-story building, Mao Honglin meticulously searched for the dull glint of metal. Spotting a pointed tip, he pulled out a twisted length of steel.
"It takes money to buy anything and everything. Now our house is collapsed and I have nothing. I need the money for basics, to buy salt and cooking oil," said Mao, 37, a short, wiry man in orange shorts and soiled white gloves.
Stooped over beside him was his 33-year-old wife, Dong Shengfang, digging with her bare hands. The two have been hunched over in the dust and debris for hours since dawn.
"Even before the quake, we were already very poor," she said during a short break.
"He had no fixed job; he only did a little labor," making about $4-$6 a day, she said. "But now even that is gone."
The start of 2008 had been a new beginning for the family, Dong said. They had begged relatives and friends for loans of $4,200. They had managed to get a 430-square-foot apartment that was home to seven people — the couple, their three children, and Mao's mother and brother.
Now the entire building is a pile of rubble.
"We borrowed all this money to buy a second-hand apartment at the beginning of the year. We now owe a lot of money. How will we repay it?" she said.
Although Chinese banks have been ordered to forgive debts owed by earthquake survivors who lack insurance, it's not certain such help would extend to Mao and his family.
Overwhelmed, she began crying as her husband lifted a gentle hand to wipe away her tears.