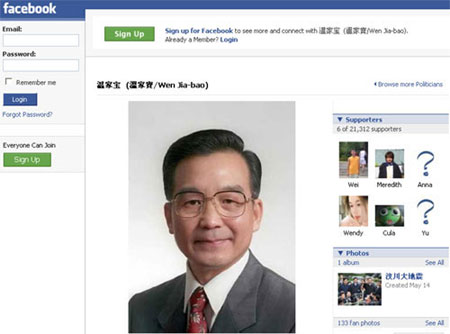 Premier Wen Jiabao's Facebook page.
BEIJING -- Chinese Premier Wen Jiabao, hugely popular at home for his relief efforts following the massive earthquake in Sichuan, has emerged as the 10th most popular politician on the Facebook social networking site.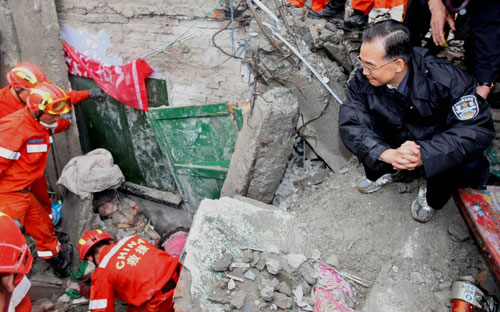 Premier Wen Jiabao encourages a child trapped under rubble as rescuers try to approach him in Dujiangyan of Sichuan Province on Tuesday. [Xinhua]
His Facebook page says he had 20,136 supporters as of Tuesday, most of whom signed up after the earthquake that killed more than 68,000 people.
Wen flew to the site hours after the quake, clambering over shattered buildings and tearfully comforting weeping children.
Since becoming premier in 2003, "Grandpa Wen" has honed a role as a gently spoken man focused on solving the country's social ills.
He has spent Lunar New Year holidays down a coal mine and in an AIDS-stricken village, vowed to retrieve migrant workers' unpaid wages, and this year he flew into areas paralyzed by severe winter storms to take personal responsibility.
Chinese Foreign Ministry spokesman Qin Gang said he had not heard of the site when asked to comment at a regular news conference on Thursday.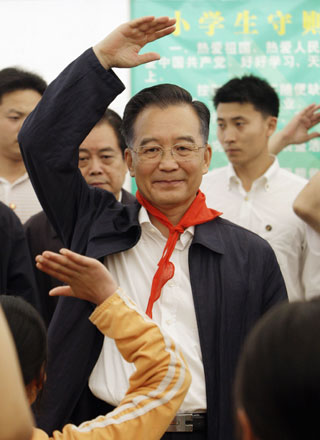 Premier Wen Jiabao (C) gives the Young Pioneer's salute to students who survived the earthquake during his inspection of a temporary school set up inside a tent in Mianyang, Sichuan province May 23, 2008. [Agencies]
"What you mentioned seems related to our quake relief efforts. I do hope the international community can have a better understanding of China through the unity and heroic acts of the Chinese people in battling the disaster," Qin said.
In the Facebook photo album called "Wenchuan Earthquake," Wen is seen in a black jacket, addressing a crowd in the quake zone.
"He is a good premier and should be nominated for the Nobel Peace Prize," a girl called Violette Qin from Switzerland wrote in a comment under the photo.
"He should be the role model for every politician ... Keep up the good work, the people need you," a man called Wilson Lee wrote.
There were more than 3,300 posts on Wen's Facebook Wall, some in Chinese, some in English.
"I do not know whether you really go to this page, I really want to tell you: Take care of yourself!" a post by Angel Chau read.
Wen now ranks 10th in a feature on Facebook called Browse All Politicians, which ranks them by the numbers of supporters on their pages.
Barack Obama, who appears set to win the Democratic nomination for November's US presidential election, ranked first with 864,832 supporters at last look.