BEIJING - On May 12, a powerful earthquake measuring 8.0 on the Richter scale jolted Sichuan Province, southwest China, with its tremors felt in most parts of the country and some neighboring nations.
Minutes later, the Xinhua News Agency began pouring out stories on the quake, while the China Central Television (CCTV) interrupted its regular programs to give viewers round-the-clock coverage of the disaster.
Death toll from the devastating earthquake increased to 55,740 nationwide as of Friday noon. In Sichuan alone 55,239 people had been confirmed dead as of 7:00 p.m. Thursday, according to official figures.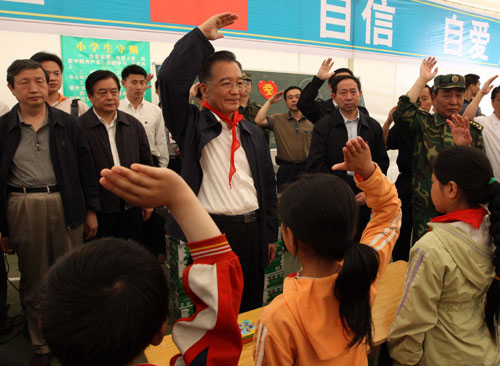 Premier Wen Jiabao (C) gives the Young Pioneer's salute to students who survived the earthquake during his inspection of a temporary school set up inside a tent in Mianyang, Sichuan province May 23, 2008.[Xinhua]  
The whole world was watching the quick and efficient relief work carried by the government and the people, seeing tens of thousands of military and civilian rescuers rush to the quake zone, with President Hu Jintao and Premier Wen Jiabao standing on the ruins to soothe the survivors and encourage relief workers.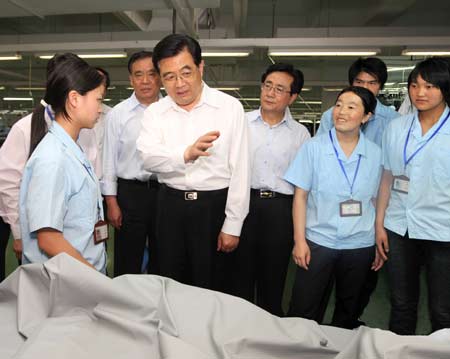 Chinese President Hu Jintao (Front L 2nd) talks to the employees of a tent factory in Huzhou, east China's Zhejiang Province, on May 22, 2008. Hu visited two tent manufacturers in Zhejiang Thursday, urging them to speed up production to meet the needs of quake survivors. [Xinhua] 
Some observers attributed the timely and overall coverage of the quake to the ideological emancipation that accompanied the country's reform and opening-up drive over the past 30 years, which brought about remarkable political progress and transparency in China.