The government on Friday vowed to severely punish those who have impropriated tents sent to quake-affected areas, where some 5 million displaced people urgently need shelter.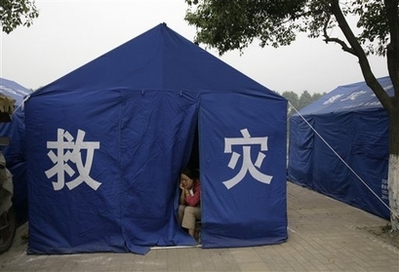 A survivor sits at a tent in an earthquake-hit area in Hanwang town of China's southwest Sichuan province Friday, May 23, 2008. [Agencies] 
But vice-governor of Sichuan province Li Chengyun told a State Council Information Office news briefing, "such cases were individual".
Internet users have posted pictures showing tents earmarked for disaster relief, including some donated by foreign countries, put up in luxurious residential communities in Chengdu, the provincial capital. They question why the urgently needed items have ended up in the hands of those less affected by the May 12 quake.
Deputy head of Sichuan's civil affairs bureau Chen Kefu said: "It really hurts to learn of such news We'll launch a prompt investigation (into the cases) and severely punish those responsible."
He described such siphoning of relief materials as "extremely despicable".
Disciplinary and supervision departments have joined the investigation, Chen said.
He also invited the media to help supervise relief materials' distribution.
Related readings:


 Gov't: 3 mln tents needed for homeless


 Hu asks tent factories to boost production

 More tents needed to improve camp life

Officials also said they have been cracking down on price-gouging in quake-affected areas after some businesses were caught overcharging for goods.
"More than 60 such cases have been reported," said Li. "We will punish those violators."
The government is shipping grain, fuel and other commodities to Sichuan to ensure adequate supplies and says it is determined to keep prices stable.
It has sent 12 inspection teams to monitor commercial activities, Li said.
In addition, four officials in Dujiangyan have been punished for neglecting their disaster relief duties, Li said, without elaborating.
To weed out corruption in quake relief efforts, the Ministry of Finance said earlier it would work with several other departments, including the Communist Party's Central Commission for Discipline Inspection, to nip the problem in the bud.
"Serious illegal behavior, such as diverting, withholding, misappropriating, fraudulently applying for or wasting disaster relief aid, as well as corruption, will be severely dealt with once it is discovered," it said on its website on Tuesday.
Chen said the province would publicize in detail the allocation of donated materials and cash.
As of noon on Friday, the country had received more than 24.6 billion yuan ($3.54 billion) in relief aid, the State Council said.