China's central government has ordered to mobilize 50 more military helicopters to airlift the critically injured residents from the mountain-logged rural areas, also epicenter of the killer earthquake which struck southwestern Sichuan Province on Monday.
While on another air inspection of the quake-hit distrcits on Wednesday, Premier Wen Jiabao ordered new reinforcements to the two hardly-battered counties, Wenchuan and Beichuan, as more than 100,000 PLA troops and police forces are searching and rescusing victims day and night.
The newest death toll has risen to 14,866 people, said the Ministry of Civil Affairs, and the situation is getting urgent and grim to save more trapped alive under the debris, as the time since the earthquake ticks towards 72 hours.
Rescuers were racing against time to find survivors a day after the strongest quake to hit China in 32 years jolted southwestern Sichuan province, demolishing buildings and trapping tens of thousands beneath the rubble.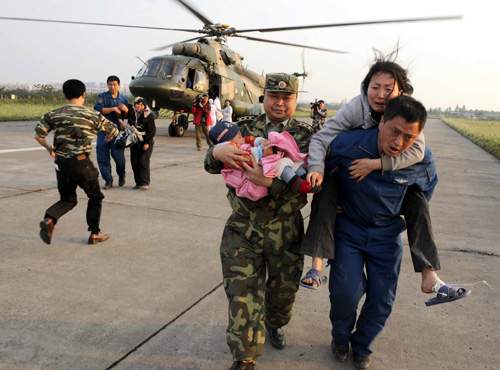 Soldiers carry those injured from the earthquake from a military helicopter that transported them to Chengdu, capital of Southwest China's Sichuan Province, May 14, 2008.
[Xinhua]
Ordered by the General Staff of the PLA headquarters, up to 600 People's Liberation Army (PLA) troops entered Wenchuan county on foot, the epicenter, late Tuesday and pulled more than 1,000 people from debris, according to the disaster relief headquarters of the Chengdu Military Command.It was not clear how many had survived. The county city is estimated to have 110,000 permanent and migrant residents.
Earlier reports from Sichuan said only about 2,300 people of a town in the hardest hit county, named Yingxiu, out of a total population of 10,000, were known to have survived.
The confirmed national death toll reached 14,866 by 2 pm Wednesday, nearly all of them in Sichuan, according to the temporary disaster relief headquarters headed by Premier Wen Jiabao, who arrived in Dujiangyan, to oversee the rescue work hours after the quake.
Another 9,404 were buried in debris, 7,841 were missing and 26,206 people were injured, according to the headquarters.
"We will try our best to send milk powder to parents and ensure children do not go hungry," Wen said on Tuesday after learning that some infants were running short of food and many people needed drinking water and tents.
Wen was visiting cities worst hit by the quake, including Dujiangyan, Deyang and Mianzhu.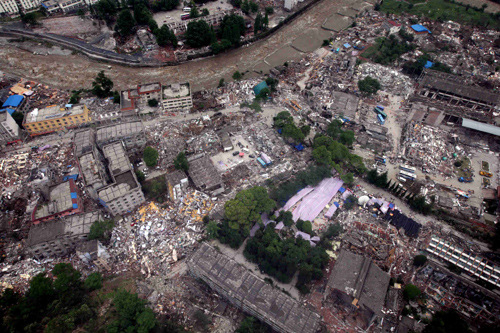 An aerial view of a town in the epicenter of Wenchuan County, Southwest China's Sichuan Province, after the deadly May 12 earthquake, in May 14, 2008. [Xinhua]
He said the rescue work had entered a crucial stage and asked people to remain calm, confident and united as he inspected a factory in Mianzhu and urged officials to ensure rapid distribution of food.
He comforted a crying child, saying, "Don't cry. Food will be sent in a short time. Biscuits and milk powder will be sent in a short time."
He told villagers: "I know some of your family and friends have died. We are deeply saddened. Some people are still trapped. We will do our utmost to rescue them."
The premier ordered that all rocks and mudslides blocking roads to the epicenter be cleared by midnight.
"People are trapped in the debris; we must seize every second," he told an emergency meeting.
Xia Guofu, Sichuan provincial military commander, led a team of more than 300 soldiers into Wenchuan and more troops were expected imminently, said Ye Wanyong, political commissar of the command.
Rescuers who arrived at Yingxiu Town of Wenchuan on foot Tuesday afternoon said the town was inaccessible by road.
The soldiers reported more than 70 percent of the roads in the town damaged, and almost all bridges had collapsed. Many people were believed to be under the debris.
Previous attempts by rescuers to reach the epicenter "by land, air and water" failed because of landslides, telecommunication breakdown and rain, an official with the Sichuan provincial relief headquarters said.