Chengdu -- The moment that a devastating earthquake struck Southwest China, the hills surrounding the city of Chengdu shook, people ran outside in confused panic, and a thick, white cloud of dust enveloped a mountain reserve.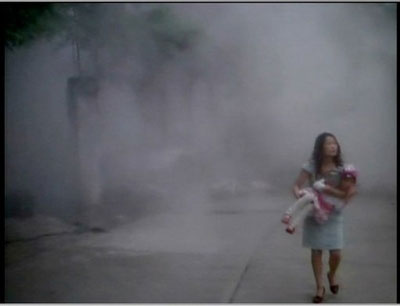 In this image from video, a young woman holding an infant walks from a cloud of dust during a powerful earthquake in a mountain reserve outside Chengdu, China, May 12, 2008. [Agencies]
Exclusive footage shot by John Dkar, a Peruvian resident of Chengdu, and obtained by AP Television News shows the terrifying first moments of Monday's quake as he motorbiked with friends in the hills outside the city.
The camera, shaking side to side, shows four women frantically coming down steps alongside trees and bushes.
A voice, apparently that of Dkar, is heard telling his companion in English: "OK, calm down, calm down. ... It's over, it's over, it's over."
People can be seen on the video running and screaming, or almost immobile with fear. A young woman, emerging from the white dust, carries a child along the road.
Four women sit on the ground, holding hands and comforting each other. Two women standing nearby cling to each other. Panicked voices and shouts are audible.
"My first feeling was really a bit surprised and just being with my camera," Dkar, a language teacher and video blogger, told The Associated Press in an interview Wednesday night in Chengdu. "It's just like a movie until you see walls cracking, you see walls falling down and trees falling, then you realize it is a real quake.
"The shake was like a kind of explosion that was coming from the top of the mountain and then you start shaking in a very strong way and then you suddenly realize that you have walls exploding in front of you and a lot of dust then you know its for real," Dkar said.
Later on the video, part of a two-story wall is seen on the ground in front of a white-walled building. The building appears twisted, a jagged piece missing, the roof gaping and unsteady.
A man stands with blood running down his back and a makeshift bandage on his head.
Several people are seen with injuries to the hands, head and legs. Dkar said he was able to treat some with antibiotics and painkillers from his first-aid kit.
Dkar said he and his friends were trapped overnight by blocked roads with no radio or cell phone contact with the outside world. He said they returned to Chengdu expecting the worst, but found the city of about 10 million people largely unscathed.