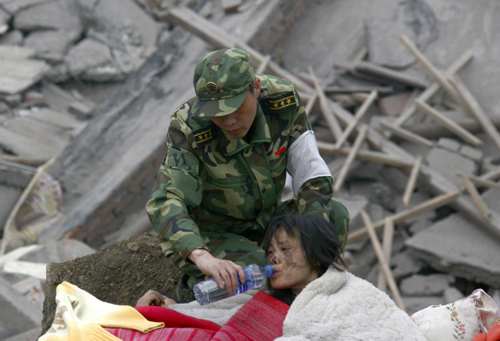 A soldier gives a wounded woman water at the earthquake-hit Beichuan County, about 160 kilometers northeast of the epicenter of Wenchuan County, Sichuan Province, May 13, 2008. China dispatched more soldiers to the earthquake-ravaged province of Sichuan on Wednesday to quicken a search for survivors. [Agencies]
50,000 Soldiers Mobilized
As of Tuesday night, nearly 20,000 soldiers and armed policemen had arrived in Sichuan province, with 30,000 more troops advancing toward the quake-hit regions by planes, trains and trucks, and on foot, the Ministry of Defense said.
A large number of search and rescue workers are urgently needed in quake-hit areas, an official with the Ministry of Civil Affairs said on Tuesday.
Wang Zhenyao, director of the disaster relief department of the ministry, told a press conference on Tuesday that people trapped in collapsed buildings could survive for up to a week.
According to Wang, transportation hurdles and the huge number of victims were the two major difficulties facing rescue and relief workers.
Meanwhile, huge amounts of relief materials are required, Wang said, adding that up to 60,000 tents are needed in Mianyang alone, putting further pressure on transport.
Wang, while expressing appreciation for all domestic and foreign donations, said conditions were "not yet ripe" to allow foreign rescue teams into the country.
"At this point, transportation in affected areas is still blocked and it is impossible even for our own rescue teams to reach the disaster-hit areas," he said.
A Foreign Ministry spokesman on Tuesday also welcomed the international community's aid to China's relief efforts.
Many international organizations and foreign leaders have expressed sympathy and pledged to offer help.
Qin Gang told a news briefing that no casualties of foreigners in quake-affected area had been reported.
A group of 31 British tourists have arrived safe in Chengdu, Qin Gang late on Tuesday.
The 31 British tourists encountered the massive quake Monday afternoon on their way back from a tour to Wolong, and all of them finally returned to Chengdu safe without any casualty or injury, with the assistance of the police of Dujiangyan, a city near Chengdu, according to Qin.
Train Derailed
A 40-car freight train carrying gasoline derailed and caught fire in neighboring Gansu during the quake and was still burning Tuesday evening, a railway official said. One injury was reported.
The train, including 13 tank cars filled with gasoline, derailed and burst into flames on Monday in Gansu province when the quake cut a major rail line, Wang Yongping, spokesman for the Ministry of Railways said.
It was still on fire more than 26 hours after the accident, Xinhua News Agency reported.
The heat of the fire could be felt 100 m away.
Wang said all the railway lines affected by the quake in Sichuan province had been reopened, apart from the line with the burning freight train. That railway runs from Baoji in Shaanxi province to Guangyuan in Sichuan.
The earthquake left trains and passengers stranded on major rail lines leading to Chengdu, Xinhua said. At least 149 cargo trains and 31 passenger trains were affected and passengers were being moved to safety yesterday.