The deadly earthquake that rocked Southwestern China and felt all across China and beyond, could possibly have left more than 8,500 people dead, and the death toll is expected to climb as rescue efforts are intensifying.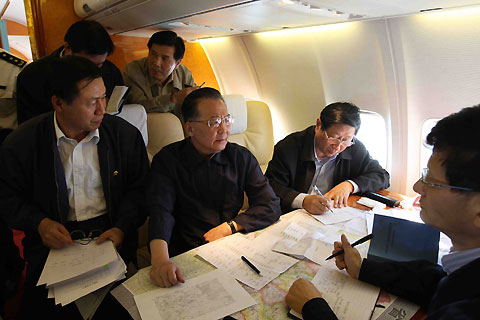 Premier Wen Jiabao(C) arranges relief work with officials onboard the plane to quake-stricken area on May 12, 2008. [Xinhua]
China's state-run news agency Xinhua said in a news flash that in Sichuan Province alone, which was hit the hardest, the death toll there has risen to 8,533.
Earlier, it said between 3,000 to 5,000 people are feared dead in the province's Beichuan County, near the epicenter of Wenchuan County. Wenchuan lies about 145 kilometres west of Chengdu, the densely populated provincial capital.
Xinhua quoted China's Ministry of Civil Affairs as saying the strong tremor killed at least 107 people in Sichuan's Chengdu,  neighboring Chongqing, Gansu and Yunnan provinces. And, up to 900 teenagers were trapped as their middle school buildings in Dujiangyan, suburban Chengdu, partly collapsed. Rescuers are seen in TV footage using cranes to move away cement and steel structures.
China's state seimological administration reported the earthquake hit Sichuan Province at 2:28 pm Beijing Time Monday, at a destructive scale of 7.8 on the Richter calculations. The U.S. Geologocial Survey said on its website that the epicentre lies 29 kilometres below the surface, and at a scale of 7.5.
Chinese President Hu Jintao, who have just completed a 5-day official visit to Japan, has ordered prompt rescue efforts to take care of the affected. Premier Wen Jiaobao has cut short his inspection trip in central Henan Province, and have flown to Chengdu to lead the government rescue efforts.
More than 5,000 PLA officers and soliders and 3,000 police have also rushed to Wenchuan and surrounding areas to spearhead the rescue efforts.
Wen Jiaobao told reporters during his flight to Sichuan that the central government is  closely monitoring the disaster relief work, and Wen urged for calm, efficiency and confidence in fighting the killer tremor.
"I will be in charge of relief work headquarters that has been set up with eight State Council departments," Wen said.
Chinese reporters in Juyuan town, about 60 miles from the epicenter, said that they saw trapped teenagers struggling to break loose from underneath the rubble of the three-story building "while others were crying out for help."
Two teenage girl students were quoted as saying they escaped because they had "run faster than others."
Sleepless Night
Many residents in Chengdu and elsewhere near Sichuan are expected to stay out-doors or in makeshift beds, as they fear more follow-up quakes.
An employee of chinadaily.com.cn, who happens to be in Chengdu on a business trip there, said hotel administration has instructed all tenants to keep away from their rooms. The employee said more than 50 are staying in the first-floor lobby.
"We felt continuous shaking for about two or three minutes. All the people in our office are rushing downstairs. We're still feeling slight tremblings," said an office worker in Chengdu, when the tremor struck.
Provincial officials said that the temblor struck hilly and foresty countryside leading up to the mountains, toppling buildings in small cities and towns in the largely rural area.
With a population of 111,800, Wenchuan County lies in southeast part of the Tibetan-Qiang Autonomous Prefecture of Aba, 145 km to the northwest of Chengdu. Wenchuan is home to the Wolong Nature Reserve, China's leading research and breeding base of the endangered giant pandas.