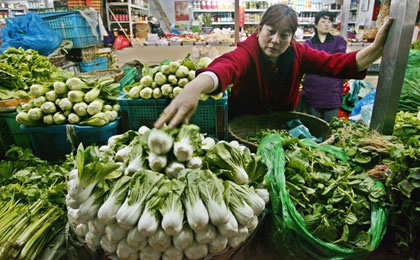 A vendor arranges green vegetables at a market in Nanjing, Jiangsu province May 12, 2008. Prices of food, especially of agricultural products, will continue to rise, making it difficult for China to hit this year's 4.8 percent inflation target, a senior economist of the National Bureau of Statistics said. [Agencies]
Consumer inflation in China rebounded to the highest level in 11 years in April, as food prices continued to surge, prompting an immediate announcement of a hike in the bank reserve ratio by 0.5 percentage point.
The Consumer Price Index (CPI), a barometer of inflation, jumped 8.5 percent from a year earlier, according to a statement on the website of the National Bureau of Statistics (NBS).
In response, the People's Bank of China, the central bank, ordered the commercial banks to set aside 16.5 percent, up from the previous 16 percent, of their deposits as reserves, effective on May 20. That marked the highest level in more than two decades and the 17th increases in less than two years.
The latest increase aimed to "strenthen the liquidity management in the banking system and steer the reasonable growth of credit," the central bank said in a online statement.
Related readings:


 Cutting inflation to remain top goal - Zhou


 Vice premier warns of impact of inflation


 Top banker: Inflation likely to fall in Q2


 Inflation pressures ease, but target still elusive


Statistician: China risking overall inflation


 World Bank: Inflation threatens East Asia development


 ADB: China's GDP to grow 10% in 08, inflation at 5.5%
April's CPI surge is in part due to the relatively small base in April of 2007 and the commodity price jumps in the global market, especially foodstuffs, the NBS said in the statement.
"Currently, we need to closely monitor the trend of future price movement and give a prominent role to the fight against inflation and the prevention of the further price rises," it added.
The CPI surged to a 12-year high of 8.7 percent in February year-on-year before easing a little bit to 8.3 percent in March.
Food continued to be the biggest driver in consumer inflation, rising 22.1 percent from a year earlier, while non-food items saw an increase of 1.8 percent year-on-year.
However, analysts fear the inflation may gradually spread to non-food sectors, as the Producer Price Index (PPI), a measure of price levels as finished goods leave the factory gate, skyrocketed to 8.1 percent year-on-year last month, the highest level in four years.
The jump in wholesale prices was largely fuelled by crude oil, coal and other raw materials. Analysts say it usually takes about six months for price hikes at factory gates to finally be felt by consumers.
It will be hard for China to keep inflation under 4.8 percent this year, a goal set by Premier Wen Jiabao in his work report in March, Yao Jingyuan, chief economist of the NBS said on Sunday.
The priority of China's monetary policy will be fighting inflation, central bank governor Zhou Xiaochuan said during the weekend at a financial forum in Shanghai.
His remarks reignited worries of further monetary tightening, including interest rate hikes, prompting equity investors to continue selling. The Shanghai Composite Index ended the morning session down 0.55 percent at 3,593.71 points on Monday.
However, a series of aggressive interest rate cuts in the United States has limited the room for Zhou to do the opposite, as a bigger interest rate gap between the two countries will draw more hot money into China, which in turn will add to the price pressure.
In face of the hovering inflation, another interest rate hike was possible, Zhou said last week. But he stressed that he has other tools at his disposal.

Trade Surplus Down 1%
China's trade surplus in April fell about 1 percent to a still-robust US$16.8 billion amid weaker global demand. 

Surplus with Europe jumped by 34.8 percent to US$12 billion (euro7.8 billion) while that with the United States saw much slower growth, rising by 4 percent to US$13 billion (euro8.4 billion), according to data released by the Chinese customs agency on Monday.

China's global trade gap in April was bigger than that in February or March but well below monthly figures last year that often exceeded US$20 billion (euro13 billion).

The surge in exports to Europe is due in part to the rise in the euro against China's currency, the yuan, which makes Chinese goods more attractive to European consumers.

By contrast, the dollar has fallen against the yuan, making Chinese goods more expensive for American consumers at a time when uncertainty about the US economy has hurt retail spending.