SHANGHAI - Chinese Vice Premier Wang Qishan warned Friday global inflation posed a threat to China's speedy growth, saying high prices abroad constituted a major pressure for the nation's economy.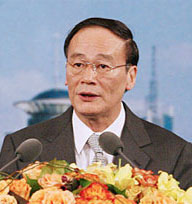 Vice Premier Wang Qishan speaks at a financial forum in Shanghai May 9, 2008.
"China's economy continues to grow fast... although the economic pace is facing contradictions and problems," Wang said in a speech at a financial forum in Shanghai.
"Mainly, prices are relatively high, while fixed assets investment have not returned to rational levels and at the same time global inflation has intensified, creating major outside pressure for China," Wang said.
The government is battling to control a spike in inflation -- currently at near-12-year highs -- while at the same time maintaining the rapid double-digit growth that China has enjoyed for five consecutive years.
The world's fourth-largest economy expanded by 10.6 percent in the first quarter of 2008 compared to a year ago.
Wang said China had to continue to strengthen macroeconomic controls and implement prudent fiscal policy while maintaining tight monetary policy.
"We must prevent economic growth from turning into overheating and prevent prices from turning into inflation," he said.
He said the weakening US dollar combined with the instability of financial markets and the economies of developed countries meant China had to take steps to protect its economic financial system.
"If we don't handle financial risks properly, this could cause turbulence in the overall economy and undermine social and political stability," he said.
Wang said China would continue to reform its banking, securities and insurance industries.
Reforms to its current currency mechanism have achieved substantial progress while attempts to make interest rates more market-oriented were ongoing, he said.