Quake Felt Nationwide
In Beijing's financial district, many workers poured from their buildings but there were no visible signs of damage. The subway system was unaffected.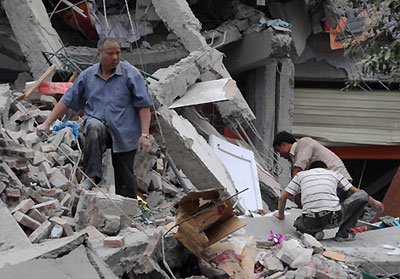 Rescue workers search for victims in debris in Dujiangyan, Southwest China's Sichuan Province on May 12, 2008. An earthquake measuring 7.8 on the Richter scale jolted nearby Wenchuan County at 14:28 Monday. [Xinhua]
"People were shouting 'get out, get out', so we all ran out of our dorm," said a student surnamed Zhang at a university in nearby Chongqing.
Xinhua reporters in many other parts of China also reported tremors. Reporters in Chengdu said they saw cracks on walls of some residential buildings in the downtown areas, but no building collapsed.
The telecom networks in Chengdu and Chongqing cities broken down for a while after the quake. People complained they were unable to have phone calls on the fixed line or the mobile.
The quake was also felt in Zhengzhou, capital of central Henan Province, where people rushed out of homes and offices and took to the streets.
Many said they felt dizzy and saw the pendant lamps on their ceilings swinging back and forth.
In Lanzhou, capital of the northwest China's Gansu Province, the quake sent many parked cars by the roadside buzzing. Xinhua reporters in Yinchuan, capital of Ningxia Hui Autonomous Region, said they felt the office building rocking back and forth for about four minutes.
A retiree in Leshan City of Sichuan Province said over the telephone that a wall in her garden collapsed, while a repairman in Chongqing saw the ceiling of his factory shamble and alarmed the staff, who soon left the building. In Shanghai, people were evacuated from office buildings in Hongqiao and Nanjing Road.
In Shanghai, people were evacuated from office buildings in Hongqiao and Nanjing Road.
Mobile phones in Chengdu and Chongqing could not be reached for a while on Monday afternoon.