BEIJING  -- Famed writer Bo Yang, a mainland-born writer based in Taiwan, died Tuesday of lung disease in Taipei. He was 88.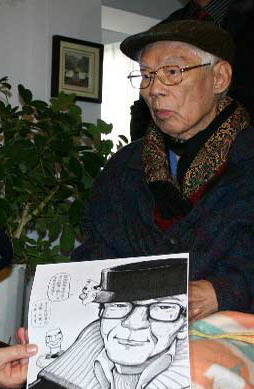 File photo of Bo Yang and his cartoon imagery [cnsphoto]
Bo had been receiving treatment for pneumonia at the city's Cardinal Tien Hospital since February 24 and died at 1:12 am Tuesday, local media reported.
Born in Central China's Henan Province in 1920, he began using the name Guo Yidong to write in the early 1950s. He moved to Taiwan in 1949. He started using the penname Bo Yang in 1960 to write essays.
He was imprisoned for nine years and 26 days by the Taiwan authority in 1968 for the alleged crime of "sowing dissension between the people and government".
Among his works was a new translation of the classical Chinese historical records of Zizhi Tongjian, known as History as a Mirror, a book that was hailed as a bestseller in Taiwan.
Zizhi Tongjian chronicled Chinese history from 403 B.C. to 959 A.D., after the works were compiled by many ancient Chinese scholars led by the Chinese politician Sima Guang (1019-1086) in the Song Dynasty.
Bo's Historical Outline of the Chinese People, a three-volume popular history, was listed as one of the ten most influential books.