ZIBO, Shandong: For judoka Zhang Lin, death was just inches away - literally - when the train crash occurred early yesterday morning.
Returning to Qingdao after a training camp in Beijing, she was fast asleep when a violent jolt woke her up.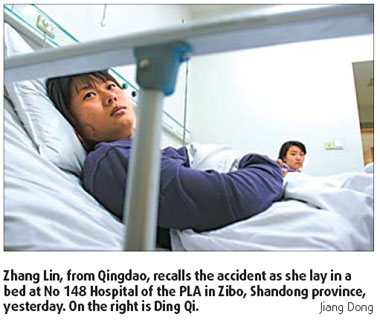 She immediately felt something was wrong, and instinctively cradled her head with both arms. A second later, she felt a force so strong that she felt herself swung from her sleeper berth and thrown out of the train window.
Luckily, the window glass had already been broken earlier when a fellow passenger was thrown against it.
Otherwise the collision could have killed her instantly, she told China Daily as she lay in a bed at No 148 Hospital of the People's Liberation Army in Zibo, Shandong province.
As she hit the ground, she heard a roaring sound and saw the carriage topple in front of her - only inches away from her feet. "One more roll by the carriage could have crushed me," said Zhang, who suffered bone fractures and bruises.
Ding Qi, an 18-year-old student from Qingdao, also recalled the tremendous force that toppled the train.
"The train first swung to the left, jolting me out of the sleeper and sending the tea cup on the table flying, and then it swung to the right, more forcefully."
The force unfastened the sleeper berth above her, which dropped on her leg.
"From that moment till now, I dare not close my eyes," she told China Daily last night.
She said as soon as she shuts her eyes, the chaotic scenes, the screaming, and the blood resurface in her mind.
"It was terrible."
Ding, who was dragged out of the toppled carriage by rescuers, escaped with minor injuries.
Another passenger surnamed Zhang told Xinhua that local villagers used farm tools to smash train windows and pull out trapped passengers.
Many survivors also joined the rescue effort, using blankets and bedsheets as stretchers to carry the wounded.
"I saw a girl who was trying to help her boyfriend out of the train, but he was dead," Zhang said.
Many passengers climbed out of the wrecked train cars shortly after the accident, some wrapping themselves in bedsheets from the sleeper cars in the early morning chill.
Bloodstained sheets and broken thermos flasks could be seen on the ground beside the twisted train cars, Xinhua reported.
A 38-year-old woman told Xinhua that she and daughter, 13, escaped unhurt by scrambling through a huge crack in the floor of their carriage.
The woman, who gave only her family name of Yu, said she was traveling with her daughter from Yantai to Jinan.
Xinhua contributed to the story