China and the European Union are committed to deepening economic cooperation, senior officials at the first China-EU High Level Economic and Trade Dialogue said on Friday.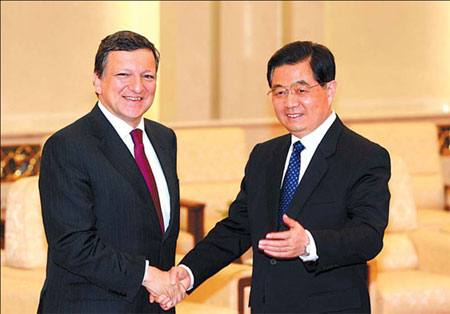 President Hu Jintao shakes hands with European Commission President Jose Manuel Barroso on Friday at the Great Hall of the People in Beijing on Friday. [China News Services]
"We expect to strengthen communication and cooperation with the EU on topics in the economic and trade sectors and jointly deal with the opportunities and challenges brought about by globalization," Vice-Premier Wang Qishan, who led the Chinese delegation, said at the meeting in Beijing.
The two parties exchanged views on trade and investment cooperation, balanced economic development, and innovation and technology transfers.
They had in-depth discussions on energy, intellectual property rights protection, technology cooperation and trade facilitation.
EU Trade Commissioner Peter Mandelson, who co-chaired the dialogue, said: "We meet at a time when the global economic environment is uncertain, and uncertainty strengthens the political temptation of protectionism.
"I believe we must guard against that by showing that openness works."
Wang urged the European Union to grant China market economy status as soon as possible and remove restrictions on hi-tech exports to China.
The Chinese delegation includes 10 minister-level officials in charge of areas such as foreign affairs, trade, employment, customs and product security.
As well as Mandelson, eight other EU commissioners for the environment, science and research, development, energy, tax and customs, employment and social affairs, external relations and consumer protection, participated in the dialogue.
China is the EU's second-largest trade partner, while the EU is China's top trade partner. Bilateral trade volume in the first quarter of this year was $93.92 billion, up 24.7 percent on last year.
China has already set up similar vice-premier level economic dialogue mechanisms with its two other major trade partners, the United States and Japan.
The launch of the dialogue and the holding of discussions on key issues at senior ministerial level displays a mutual willingness to promote bilateral relations, Zhang Jianxiong, a research fellow of European studies under the Chinese Academy of Social Sciences, said.
The second session of the high-level economic dialogue will be held next year within the EU.