The International Criminal Police Organization, better known as Interpol, will provide China with comprehensive intelligence and information to help ensure a safe Olympics in Beijing, its secretary-general said on Friday.
"Ensuring the safety of an event of this scale requires not only a comprehensive domestic strategy but an equally vigorous international effort," Ronald Noble told China Daily.
"I respect what China has done to secure the Olympics, and Interpol, with all our 186 members, would like to offer strong support to China's efforts to host a safe Games."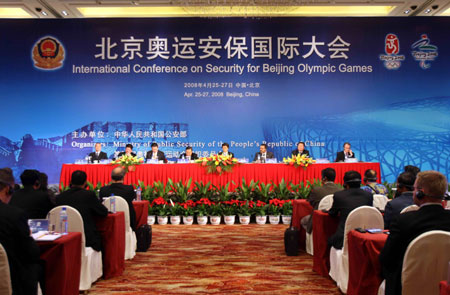 An international conference on security cooperation for the Aug. 8-24 Games in Beijing opens in the Chinese capital city on Friday April 25, 2008. A hotline will be set up between the chief of Interpol and Beijing security officials to ensure the rapid exchange of intelligence during this summer's Olympic Games. [Xinhua]
Noble outlined some of the assistance measures:
For the first time there will be a direct hotline between the head of the Olympic security department and head of Interpol during the Games.
An Interpol task force will arrive in Beijing weeks before the Games to help train Chinese officers in crisis and major event operations. During the Games, the team, supported round the clock by Interpol's command and coordination center, will work alongside Chinese and foreign liaison officers in the International Police Liaison Center in Beijing.
Interpol is also working with Chinese authorities to implement a system for conducting checks of Interpol's database of more than 14 million stolen and lost travel documents at Beijing's airport and other major border entry points. It is crucial to preventing terrorists or criminals from entering China.
Chinese police will also have automated access to Interpol's database on suspected terrorists or criminals. The information includes their names, fingerprints, photographs, DNA profiles and criminal modus operandi.
The Olympic Games is always a big target for terrorists because of the large numbers of athletes and visitors and billions of people watching TV, Noble said.
"This could provide easy cover for terrorists. Any attack during the Games would have an immediate global impact," he said.
The Ministry of Public Security recently reported several failed plots to disrupt the Games, which have been linked to separatist groups. They included an attempt to bring down an airliner; poison gas and bomb attacks on hotels and government offices in Beijing and other big cities; and kidnapping foreign athletes, spectators and journalists.
The disruptions to the Olympic torch relay have introduced additional complications to the security considerations, Noble said.
"Innocent people who were selected to carry the torch because of their belief in the Olympic ideals have been attacked. Even the police protecting the torchbearers have been assaulted," he said.
"All countries whose athletes will participate in and whose citizens will attend the Games must be prepared for the possibility that the groups and individuals responsible for the violence during the global torch relay could carry out activities at the Games."
Such activities could range from disruptive behavior, like blocking transport routes or interfering with competitions, to more violent acts like assaulting Olympic officials or athletes, Noble said.
"From my perspective, the biggest security threat to the Games right now may be some people trying to take advantage of the protests to slip in and engage in criminal, violent and even terrorist conduct," he said.
Noble said politics should be kept out of Interpol's work.
As an organization with 186 member countries, Interpol understands the importance of keeping politics out of its work. And Interpol's Constitution strictly forbids it," he said.
"I believe politics has no place in international policing, or in the Olympics."