Beijing yesterday demanded that CNN apologize for insulting remarks made by one of its commentators against China and the Chinese people.
"We are shocked at, and strongly condemn, the vicious remarks made by CNN commentator Jack Cafferty against the Chinese people," Foreign Ministry spokeswoman Jiang Yu told a regular news conference.
"We solemnly demand that CNN and Cafferty retract his vicious remarks and apologize to the whole Chinese people," Jiang said.
In a program, The Situation Room, telecast on April 9 when the Olympic torch relay was being held in San Francisco, Cafferty made a slew of racist and vitriolic remarks against the Chinese people.
He said the US imported Chinese-made "junk with lead paint on them and poisoned pet food".
"They're basically the same bunch of goons and thugs they've been for the last 50 years," he said.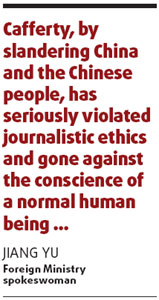 Jiang said Cafferty, by slandering China and the Chinese people, has "seriously violated journalistic ethics and gone against the conscience of a normal human being, which reflects his arrogance, ignorance and hostility".
His words have sparked indignation and anger among Chinese around the world; and drawn condemnation from all people around the globe who uphold justice, Jiang added.
Cafferty said late on Monday on the same program that his comments referred to the Chinese government, not Chinese people or Chinese-Americans, according to the CNN website.
The Legal Immigrant Association (LIA), a leading US immigrant organization mainly comprising people from China, submitted an open letter to CNN, urging it to "take immediate action" against Cafferty.
"It's not common to witness such blatant discrimination against an ethnic group of people with such a derogatory connotation on a national TV program," says the letter by the non-profit organization.
An online petition launched by the LIA demanding an official apology from CNN and for CNN to take immediate action against Cafferty for his racist remarks garnered nearly 40,000 signatures by 10 pm last night.
"Without doubt, many people feel hurt, especially the Chinese people, by this shameless assault," it says.
CNN's Hong Kong bureau, one of its main reporting bases in Asia, said it had no immediate comment.
The Foreign Ministry also said yesterday that France should reflect on why the Chinese people are calling for a boycott of French products and companies such as retail giant Carrefour.
Consumers are being urged to boycott French goods because of the violent disruptions to the torch relay in Paris earlier this month; and, in particular, Carrefour, to protest against the supermarket chain's perceived support for Tibetan separatists.
Petitioners say LVMH Group, a major shareholder in Carrefour, has donated funds to the Dalai Lama.
Jiang said: "The Chinese citizens have recently expressed their own opinions and emotions, and they have their reasons to do so. The French side should reflect on (its recent moves)."
She expressed the belief that the Chinese people will express their displeasure in accordance with the law.