A modern administrative system featuring regional autonomy and proper public services, is thriving in Tibet, said Tibetologists who denied any possibility of the region returning to theocracy with the Dalai Lama as its head.
Theocracy has lost its root in Tibet as people have learned from the past, Professor Lhagpa Phuntshogs, China Tibetology Research Center (CTRC) general director, told Xinhua Friday.
"Tibet had been under the theocratic rule and feudal serfdom for centuries until the 1950s," he said, adding theocracy in Tibet was not unique from the system that used to dominate Europe and was abandoned since the Renaissance in the 15th century.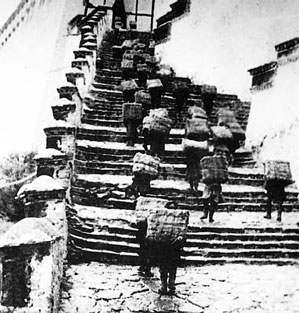 Serfs carry goods to the Potala Palace. Documents at the Archives of the Nationalities Cultural Palace in Beijing shows that a feudal-serfdom institution existed in Tibet before the democratic reform in 1959 was more brutal than the system of medieval Europe. [File Photo] 
Brutal Past
The old political system poisoned Tibet, leaving thousands in poverty and slavery, he said. "The Dalai Lama, since the fifth one, has sat at the top of this hierarchy and remained its symbol till now.
"People might forget who were those following the Dalai Lama to flee Tibet in 1959 and why they left?" he said.
Historical documents showed that the majority of the Dalai Lama's followers in 1959 were nobles and monks that enjoyed privilege under the theocratic and feudal rule. They stood against China because they refused any reforms and changes to the old system that the central government initiated, the expert said.
The "Tibetan government-in-exile", founded by the Dalai Lama and his supporters, adopted a theocracy-like system, said Tang Jiawei. The famed Tibetologist based in southwest Sichuan Province cited its "constitution" that granted the Dalai Lama the highest power upon its religious and political affairs.
"The Dalai group is not as democratic and free of conflicts and violence inside itself as its leader claims," Tang said.
One of the most well known incidents was the Dalai Lama's attack against believers of a Tibetan Buddhist deity, Dorjee Shugden.
The religious repression from the Dalai Lama and his men upon this group of believers started in the 1990s. In 1996, the Dalai Lama ordered a ban against worshipping the deity and a number of the deity's statues were damaged while believers were harassed and threatened.
This led to a 300-people protest in London when the Dalai Lama visited the British capital in the summer of 1996.