Lao Feng, a maid who cleans my apartment every Saturday called me the other day. She asked for a day off. With the help of a matchmaker, she had to accompany her adopted daughter to meet her prospective husband.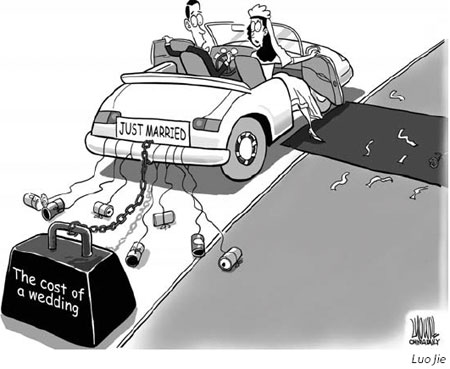 Her daughter and the young man were captivated at first sight. The parents nodded their approval without hesitation. Then they set a date for the engagement. The parents of the man threw a big engagement party where the bride-to-be was given a ring, a pair of earrings and money from her would-be husband's relatives.
Lao asked the parents of her future son-in-law to build a house for the young couple before they get married. The man's parents, who live on the outskirts of Beijing, agreed and submitted an application to the county government for a piece of land. The response is due in March.
On top of the expense for the couple's wedding, the young man's parents will spend 100,000 yuan ($13,500) on the new house.
This is the way young people in the countryside find their mates and their families deal with the wedding.
With the date for her daughter's wedding settled, the maid felt as though a load had been taken off her shoulders.
Her daughter was born in the year of the tiger (1986), and her prospective husband in the year of the ox (1987). Their years of bad luck will respectively be 2009 and 2010. The custom is that people are not supposed to get married in the year of an animal in which they were born. It is considered bad luck. So, the parents of the couple want them to get married this year, or they would have to wait till 2011. That would be too long a wait.
The parents of the man are going to set aside a large amount of their savings for the wedding and the new house.
People in cities can buy an apartment, a house or a car on mortgage. In the countryside parents of grooms-to-be are supposed to have a house available.
For people in the cities and countryside, the money they spend on weddings is rising faster than the CPI.
A report by the Beijing Municipal Bureau of Statistics and the National Bureau of Statistics found that in 2007, newly-weds in Beijing spent 53,645 yuan per person on their wedding.
The survey of 764 urban couples who got married between 2003 and 2007 showed that married people now fall into the 25 to 30 age group.
Their wedding expenditure usually covers clothes, jewelry, a banquet, photographs and the honeymoon.
For those with deep pockets, their weddings are more luxurious with a banquet at a five-star hotel.
In this country, a couple first goes to the civil affairs office to register their marriage. They are legally wed after the registration, but their marriage is seen as incomplete until they have a wedding reception, a thing most Chinese take as being much more important than registration. The couple invite relatives and friends to a banquet, where they exchange the vows of "I do" and receive blessings. The final matrimonial step is the honeymoon.
The importance people have been attaching to their weddings has produced a new breed of professionals - wedding planners. Wedding planning agencies take care of most weddings in the cities.
The baby boomers born in the 1980s are approaching the legal age of marriage. These young people are big spenders.
As a result, the wedding planning business is going to boom in the next few years.
The amount of money people spend on weddings does not necessarily help them to keep a long-term relationship.
Chinese demographers and sociologists differ on the divorce rate.
But one thing is for sure, China's divorce rate has been increasing in recent years.
A demographer from the Chinese Academy of Social Sciences said that China's divorce rate had surpassed that of Japan and South Korea. In China, Beijing ranked first.
However, the divorce rate has had no effect on young couples spending lavishly on their weddings.
A wedding is taken as an excuse to show off rather than a declaration of a lifelong commitment.
As wedding costs soar, lawyers are also reaping a fortune handling divorce cases.
Many white-collar workers have their property notarized before walking down the isle. It helps smooth a messy divorce.
Marriage came into being at a time when life expectancy was much shorter and "till death us do part" meant until the age of perhaps 40. There was no expectation of continuous joy, and sexual contentment stretching over decades. Today, we expect too much of a relationship.
I remember my parent's generation where monogamy and stability - yes, even tedium - were applauded. Today, nobody gives you a gold star for staying married. We live in a world where moral values are declining.
People are still shocked when a marriage breaks up but - given how difficult it can be to sustain a long-term relationship - instead of being disappointed with those who fail, we should applaud those who make it work.
2008 is a leap year - it offers a reason for lovers to tie the knot. Many people are expected to get married this year because eight is a lucky number for the Chinese, and the Beijing Olympics is an event to remember.
Lao's daughter will be one of them. Lao is happy about her prospective son-in-law. She and her daughter had met four other suitors, before this successful meeting.
Lao and her husband may leave Beijing, where they have lived for six years, after their daughter's marriage. Their home is in Hebei province.