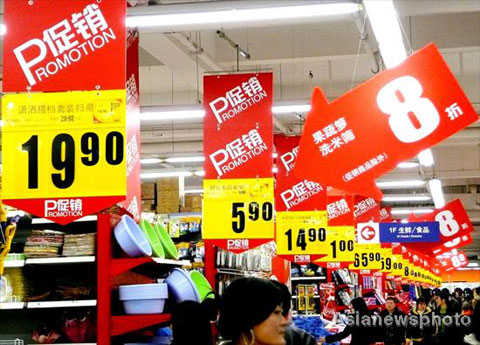 Customers shop at a local supermarket adorned with sales banners in Ningbo, Zhejiang Province, January 13, 2008. The government has promulgated a revised decree to deter price hikes through hoarding or cheating.  [asianewsphoto]
China's economy expanded at its fastest pace in 13 years in 2007 despite a slowdown in the fourth quarter, amid rising inflation, official figures showed on Thursday.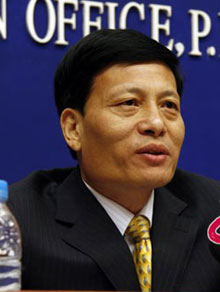 Xie Fuzhan, head of the National Bureau of Statistics, speaks a press conference on China's economy in Beijing January 24, 2008. [china.org.cn]
The country's Gross Domestic Product (GDP) grew 11.4 percent last year from 2006, to 24.66 trillion yuan ($3.42 trillion), said Xie Fuzhan, head of the National Bureau of Statistics (NBS) at a press conference in Beijing.
That marked a fifth year of double-digit growth for the world's fourth largest economy after the US, Japan and Germany. The increase was especially remarkable given the fact that the United States is experiencing a slowdown due to the sub-prime crisis and housing slump.
"However, China is unlikely to surpass Germany to become the world's third largest economy in 2007 due to exchange rate changes," Xie said.
Coupled with China's phenomenal growth was accelerating inflation which hit 4.8 percent for the whole year, far above the central bank's target of three percent.
The CPI increase for December dropped slightly to 6.5% from a then 11-year high of 6.9 percent in November, but it was still at a fairly high level. The government has announced a series measures to bring down the consumer prices before the traditional Chinese holiday, the Spring Festival which begins on February 6.
"Price pressure remains big in 2008," Xie admitted. He attributed the CPI surge to excess liquidity, jump in the prices of food, especially pork and cooking oil, and petroleum.
GDP expansion slowed down to 11.2 percent in the October-December period, Xie said, thanks to the tightening measures by regulators. The People's Bank of China (PBOC), the central bank, raised interest rates six times and hiked the bank reserve ratio 10 times in 2007, in addition to capping bank loans.
The PBOC will continue to rein in credit, as part of a "tight" monetary policy adopted by policymakers to keep the economy from overheating and to tame inflation.
As part of the monetary tightening, the PBOC last week ordered the commercial banks to set aside a record 15 percent of their deposits as reserves, up from 14.5 percent.
However, several analysts expect a ease in monetary policies later this year due to the impact of a possible global slowdown on China's economy.
"The central bank is now very aggressive in tightening, but within three months' time, four months' time, we expect much more relaxed policies from the government," said UBS economist Jonathan Anderson, according to earlier reports.
Professor Zhou Chunsheng of the Cheung Kong Graduate School of Business agreed.
"Given domestic and global factors, I think China will go ahead with tightening moves only in the first half [of 2008]. In the second half, I expect the tightening policies will be relaxed or even totally given up," he said.
"We will make timely and appropriate adjustments" in response to the changes in the domestic and world economy, Xie said, referring to interest and exchange rate policies.
Fears are mounting in the US that the world's largest economy will slide into a recession, prompting the Federal Reserve to announce a 0.75 percent cut in the federal funds rate on Tuesday.
That was the biggest cut in two decades and the first between scheduled meetings of the Federal Open Market Committee since the 2001 terrorist attacks.
According to Citigroup estimates, each one percent drop in the US economy will shave 1.3 percent off China's growth, as Americans are heavy users of Chinese products.
In spite of the uncertainties, the country's economy is widely expected to post its sixth year of double-digit growth in 2008 on investment and exports.
"I personally believe in a rosy prospect for China's economy in 2008. I think it will maintain a steady and rapid growth," Xie told the press conference.
Talking about the negative impact of a US slowdown on China's economy, he said:"We will take appropriate measures to reduce the negative influence."