China Monday expressed "serious concern" over Kosovo's declaration of independence and called for "proper solution through negotiations" between Serbia and the breakaway province.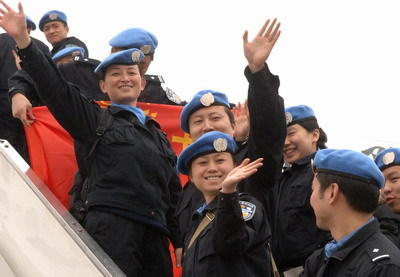 China's peacekeeping police, who will join the UN mission in Kosovo next month, bid goodbye to colleagues and friends before leaving for Langfang, Heibei Province, February 17 2008. The 15 men and three women from Chengdu, Sichuan Province, will undergo intensive training in Langfang before departing for Kosovo. [China Daily]
Foreign Ministry spokesman Liu Jianchao issued a statement Monday, warning that the move could destabilize the Balkan region severely.
"Kosovo's unilateral approach may lead to a series of consequences and create a seriously negative impact on peace and stability in the Balkans and on the efforts to build a multi-ethnic society in Kosovo, which China is deeply worried about," Liu said.
China has always believed the best way to solve the Kosovo problem is for Serbia and the province to reach a mutually acceptable solution through talks, he said.
Kosovo's Albanian-dominated parliament declared independence from Serbia on Sunday, an action that the US and several European Union (EU) members said they would recognize.
Yesterday, President George W. Bush said the people of Kosovo were now independent. In his first comment on the territory's declaration of independence, he said: "We'll watch to see how the events unfold today."
Related readings:


 Kosovo PM calls for special session of parliament


 Serbian president Tadic vows to preserve Kosovo


 Russia: Kosovo independence will affect Georgian breakaway regions policy


 UNSC urged to reject Kosovo independence


Peacekeepers prepare for Kosovo mission


EU urged not to send mission to Kosovo
"The Kosovans are now independent. It's something I've advocated along with my government," Bush said in a live interview aired on NBC television from Arusha, Tanzania during his tour of Africa.
France, too, has recognized the breakaway Serbian province as an independent state.
Britain and Italy followed minutes later and Germany said it and a majority of European Union states are expected to do the same.
But some members of the 27-nation EU - Cyprus, Greece, Romania, Slovakia and Spain - oppose Kosovo's declaration of independence. Others like Malta and Portugal prefer Kosovo's future to be decided by the UN Security Council.
And Czech President Vaclav Klaus warned that Kosovo's independence could unleash a domino affect in Europe.
Serbia has vowed to keep Kosovo inside its borders through "peaceful" means. Violence from around the region, however, was reported as Serbians voiced their protest.
In Beijing, Liu said China has urged the two sides to continue talks to reach a proper solution through negotiations under the framework of international law and to jointly maintain the safety and stability of the Balkans.
And "the international society should create positive conditions for this". The solution to the Kosovo problem is related to peace and stability in the Balkans, the UN Security Council's authority and function and the basic principle of international relations.
Responding to reports that Taiwan authorities have congratulated Kosovo for declaring independence and may recognize it, too, Liu said Taiwan has no right to do so.
"The world knows that as part of China Taiwan has no right and qualification to make the so-called recognition," Liu said.
China firmly opposes any individual or organization trying to split Taiwan from the motherland in any form. Any attempt to separate Taiwan from the motherland is doomed to fail.
Peacekeeping police
China will send its fifth batch of peacekeeping police to Kosovo in March. It will be stationed there for a year to investigate crimes, traffic policing and to help maintain social stability.