BEIJING - The international community has continued to respond with mixed feelings to Kosovo's official declaration of independence on Sunday.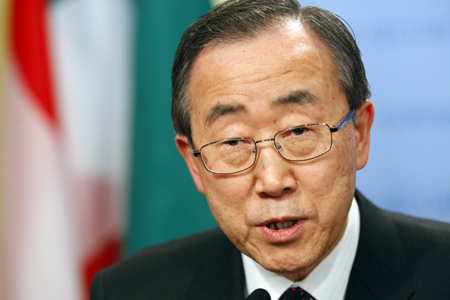 United Nations Secretary-General Ban Ki-moon speaks to members of the media about Kosovo's declaration of independence from Serbia, after Security Council meetings on the matter at UN headquarters in New York, February 17, 2008. [Agencies] 
Serbian President Boris Tadic on Sunday called on UN Secretary General Ban Ki-moon to order the chief of the UN mission in Kosovo to annul Kosovo independence and to dissolve the interim parliament of Kosovo, the official Tanjug news agency reported.
Related readings:


 Kosovo PM calls for special session of parliament


 Serbian president Tadic vows to preserve Kosovo


 Russia: Kosovo independence will affect Georgian breakaway regions policy

 UNSC urged to reject Kosovo independence


Peacekeepers prepare for Kosovo mission


EU urged not to send mission to Kosovo
Tadic also requested that the UN Security Council declare Kosovo independence legally invalid.
The parliament of Russia condemned on Monday the declaration of Kosovo's independence, saying it violates international law, Itar-Tass news agency reported.
"The proclamation of Kosovo independence violates one of the chief principles of international law -- the non-violation of territorial integrity of a state," said the two chambers of the Russian parliament in a joint statement issued.
Russian President Vladimir Putin has argued that independence without U.N. approval would set a dangerous precedent for "frozen conflicts" across the former Soviet Union, where separatists in Chechnya and Georgia are agitating for independence.
Meanwhile, US President Bush recognized Kosovo's bold and historic bid for statehood, saying "The Kosavars are now independent."
In April 2007, U.N. envoy Martti Ahtisaari recommended that Kosovo be granted internationally supervised independence. But talks that followed failed to yield an agreement between the ethnic Albanian leadership, which pushed for full statehood, and Serbia, which was willing to offer only autonomy.
"The Ahtisaari plan is our blueprint forward," Bush said. "We'll watch to see how the events unfold today. The Kosovars are now independent."
European Union foreign ministers meet in Brussels on Monday to seek for a common platform on Kosovo's unilateral declaration of independence.
The 27-nation EU remains divided over whether to recognize Kosovo's independence from Serbia.
Britain, France, Germany and Italy, along with the United States, are intent to support the move. Their foreign ministers are expected to voice their backing to the independence and try to persuade other member states to follow suit.
But Cyprus, Greece, Romania and Spain have rejected the one-sided declaration of independence at least in the short term for fear that it would become a dangerous precedent for other separatist movements.
Romanian Foreign Minister Adrian Cioroianu said on Sunday that Romania's stand on Kosovo's independence remains the same, as his country will not recognize its independence.
The Spanish government on Sunday expressed its opposition to Kosovo's independence, saying it is beyond international laws for Kosovo to unilaterally declare its separation from Serbia.