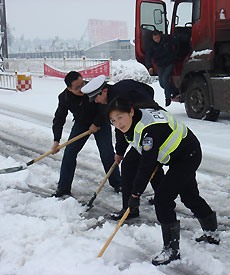 Feng Yaqin (R), a traffic police officer, shovels snow off the road in this file photo taken in Fuzhou, Jiangxi Province, on February 2, 2008.  
BEIJING - This winter has been the nation's coldest since 1986-87, as measured by the lowest average temperature, the China Meteorological Administration said on Monday.
Temperatures varied widely, hitting a record high at the beginning of this winter and falling to the extremely low level later, the administration added.
Since December, the temperature averaged minus 2 degrees Celsius (28.4 degrees Fahrenheit), 0.3 degree below normal and a record low for the past two decades.
From January 11 to February 14, the temperature averaged minus 7.6 degrees Celsius (18.3 degrees Fahrenheit) nationwide, 2.5 degrees below normal, the administration said.
Over the past month, freezing weather gripped much of southern China. The severe weather, the worst in five decades for the south, killed 107 people and caused 111.1 billion yuan (US$15.45 billion) in losses. In all, 21 provinces, autonomous regions and municipalities were affected.