CHANGSHA: Hunan province aims to achieve balanced economic growth this year and expand its economy by 10 percent, a senior government official has said.
"We will stick to the concept of a scientific outlook on development to maintain sound and rapid economic growth," provincial governor Zhou Qiang said in his work report to the region's people's congress Sunday.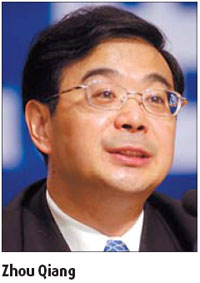 Hunan's gross domestic product (GDP) rose to 914.5 billion yuan ($126.3 billion) last year, up 14.4 percent year-on-year, figures from the Hunan statistics bureau showed.
The government's fiscal revenue increased 25.2 percent to 111.9 billion yuan, a record high in history.
Zhou said Hunan will push forward the development of the Changsha, Zhuzhou and Xiangtan regions, betting on the taking-off of the experimental zone towards a balanced development of the province.
Last month, the State Council, China's Cabinet, designated the three cities as an experimental zone for energy-saving and environmentally friendly programs.
The nation now has six experimental zones - starting with Shanghai's Pudong New District in 2005 - which focus on discovering new methods for sustainable social and economic development.
Located in the northeastern part of Hunan, Changsha, Zhuzhou and Xiangtan are long-time industrial cities and face a lack of resources and environmental pollution.
Nevertheless, the three cities are the engines of the province's growth and contributed 37.6 percent of its GDP in 2006. They also hold 19.2 percent of the province's population.
"We will also strive to make breakthroughs in areas such as energy-saving, environmental protection and financial services," Zhou said.
Hunan will try to reduce its energy intensity, or the amount of energy needed to produce a unit of GDP, by 4 percent this year, officials said.
It also aims to cut its carbon dioxide and chemical oxygen demand emissions by 2 percent. Last year, the province saw its energy intensity and pollutant emissions fall for the first time.
Zhou said Hunan will embark on a campaign to clean up pollution in the Xiangjiang River and Dongting Lake regions. The province will also invest 10 billion yuan over three years to established water treatment facilities in all the cities and towns in the province.
Hunan has already suspended the operations of 234 paper plants around Dongting Lake, one of the five largest freshwater lakes in the nation. Local authorities have also set a deadline for another 596 paper mills to clean up their operations.
The province will continue to woo foreign investment, and encourage overseas companies to invest in areas such as agriculture, hi-tech and modern service industries, Zhou said.
Foreign direct investment into Hunan amounted to $10.84 billion over the past five years, representing an average growth of 26% annually. Currently, more than 42 Fortune 500 enterprises have set up operations in Hunan.