China plans to increase imports from Latin America and Central and Eastern Europe by introducing more products from these regions to Chinese consumers through an upcoming trade event in Beijing.
The exhibition of Latin American and Central and Eastern European products is expected to attract more than 150 enterprises from 16 countries from the regions, director of the trade development bureau of the Ministry of Commerce Feng Hongzhang said.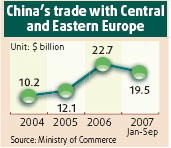 "As the organizer of the fair, we also invited some 3,000 professional domestic buyers from trading companies and supermarkets," he said.
Exhibitors will showcase agricultural products, food, alcohol and equipment during the three-day event, scheduled to open tomorrow in Beijing.
"The move is intended to help these regions increase awareness of their products among Chinese, consequently increasing their exports to the country," Feng said.
This goal is in line with the government's push to reduce trading surpluses with trade partners.
Last year, China' trade with Latin American countries hit $70.2 billion, up 39.2 percent from a year earlier. China mainly exported textiles, TV sets, DVD players and fuels to the countries. From Latin America, it mostly imported agricultural products, soybeans and integrated circuits.
"We are pleased to see that China's imports from, and exports to, Latin America are both diversifying, and trade of high value-added products is increasing," said an official with the commerce ministry's American and Oceanian affairs.
He was referring to jets from Brazil, rice from Uruguay, beer from Mexico and wine from Chile, as well as container inspection equipment and communication equipment from China.
In 2006, China's trade with 13 countries in Central and Eastern Europe more than doubled from two years earlier to reach $22.66 billion, according to General Administration of Customs statistics.
In the first three quarters of this year, imports and exports between China and Central and Eastern European countries reached $19.46 billion, up 21 percent year-on-year.
The Chinese government expects enterprises from these regions to make full use of all international fairs, expos and trading events to boost awareness of their competitive products and services in the Chinese market. The goal of the campaign is achieving better-balanced trade.
In addition to trade, China also enjoys rapid growth in bilateral investment with countries from the regions.