When the former professors came out of retirement to become a husband-and-wife team of activists, they established the Iris Chang Memorial Fund, which stages activities aimed at education and an annual essay contest.
While one of the main goals of their efforts, and of the film, is to persuade the Japanese government to redress the victims of the Massacre, Yingying Chang points out: "It's not anti-Japanese. It's to let people know this happened."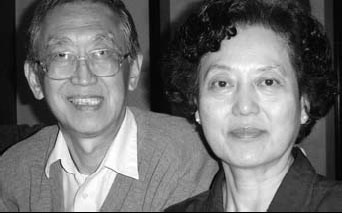 Iris Chang's parents set up the Iris Memorial Fund
Shaujin Chang, the father, believes the timing of the film's release is conducive to winning redress from the Japanese government.
"With the new leadership coming in, the movie comes at a very appropriate time," he says.
Liu says that because the docudrama was created by Canadians and tells the story through Iris' struggle, it would hold more credibility as "unbiased".
"I think it'll be more accepted by Western audiences, as we bring in Iris - a young woman brought up in America who is confronted with issues that go above and beyond culture," she says. "She was more American than Chinese and treated this as a human issue rather than a cultural issue."
Chang's character is played by Canadian actress Olivia Cheng, who was already working on a project about Chang when she heard about the casting call. She earned her audition with a clamant e-mail that said, "I was born to play Iris Chang", and she was chosen over more than 200 actresses who tried out.
"Even before this movie project came along, I was determined to bring Iris' story to the big screen one day," Cheng says. "In the same way she didn't want the Nanking Massacre to be forgotten, I didn't want Iris to be forgotten."
Cheng first learned about Chang after reading about her book in Reader's Digest in 1998. But it wasn't until eight years later that she read The Rape of Nanking. Upon completing the book, she went to California where she delved into Chang's archived materials at Stanford University's Hoover Institution. She then established contact with Chang's loved ones and friends.
"And when I heard about this film, I immediately dropped to my knees and prayed. I thanked God for putting this project in front of me, because I knew I was going to be a part of it," she says.
According to the creators, the film's main theme is "man's inhumanity to man and our own personal responsibility to prevent such horrors as Nanking, Auschwitz and Rwanda".
And so the film opens with footage of Chang saying: "The rape of Nanking was something that always could happen, and it did happen, and we have to learn from history if we want to make sure it doesn't happen again."