Today, the world remembers Iris Chang as a champion for justice, because Iris Chang refused to let the world forget injustice. But while most people know about Japan's brutal 1937 invasion of Nanking (Nanjing) through her work, few know much about the young Chinese American author who struggled to ensure its 300,000 victims didn't fade into obscurity.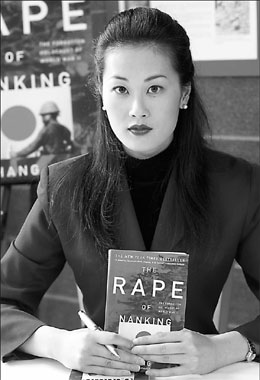 Canadian actress Olivia Cheng plays Iris Chang in the docudrama Iris Chang: The Rape of Nanking.
That's why the creators of the docudrama Iris Chang: The Rape of Nanking chose to recount the Nanjing Massacre from the perspective of the impassioned writer, historian and activist.
The film's creators believe that approaching the story through her narrative - rather than a conventional documentary approach - appeals to broader audiences because of the eminence of Chang's 1997 bestseller, The Rape of Nanking: The Forgotten Holocaust of WWII.
Chang committed suicide in 2004. She had been suffering clinical depression and her husband Brett Douglas said she pushed herself too hard. "The accumulation of hearing those stories, year after year after year, may have led to her depression. But that's just speculation. I think she also pushed herself too hard," Douglas told San Francisco Chronicle after her death in November, 2004.
She left her unfinished aspirations to complete an oral history project documenting victims' firsthand accounts and to shoot a documentary about the atrocities.
"Her legacy is this invaluable contribution to our collective knowledge, and so we chose to tell her personal story as well as the story of Nanking," says executive producer and co-director Anne Pick.
"Our film will follow Iris' journey as she researched and wrote her groundbreaking book, and through her experience, the horror that was the rape of Nanking."