SHANGHAI: Typhoon Krosa, which hit East China Sunday afternoon, was downgraded to a tropical storm after wreaking havoc in Taiwan.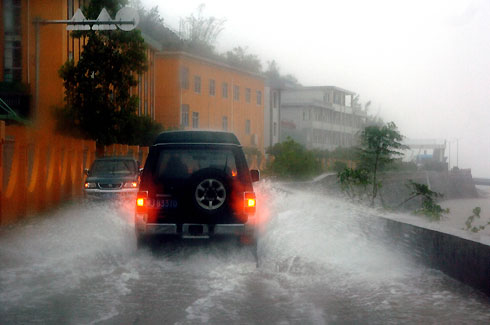 Vehicles drive slowly in heavy rains in Fuding, Fujian Province October 7, 2007. Typhoon Krosa slammed into southeast coast provinces Sunday afternoon, prompting the evacuation of more than 1 million people, and it weakened to a tropical storm after coming ashore. [Xinhua] 
According to the Fujian provincial observatory, the typhoon, the 16th this year, hit land at Fuding, Fujian Province, bordering Zhejiang, at 3:30pm with a wind speed of 33m per second and moved northwest with decreasing strength.
By 5pm, weather officials announced the typhoon's ferocity had decreased to the intensity equivalent of a tropical storm.
Krosa swept the coastal areas of the two provinces with rainstorms and strong winds and brought scattered showers to Shanghai yesterday.
The two provinces have evacuated more than 1 million people and emergency teams have distributed food, water and other equipment as part of relief efforts.
In Fujian Province, flights and ships to and from Quanzhou, Mawei and Fuzhou were cancelled and another 16 were delayed. Some highways were shut down. And Ningde, a city on the expected path of Krosa, will shut down all schools today.
In Zhejiang, Wenzhou has temporarily closed its Yongqiang Airport and eight coastal towns in Pingyang County have been flooded with up to 1.8m of water.
A Hong Kong-registered cargo ship Aladdin Dream, with 27 international crew members aboard, was trapped some 27 km off Wenling, southeast Zhejiang on Saturday morning because of motor malfunctions.
Rescue vessels failed to get near the stranded ship because of billows triggered by Krosa.
But according to Xinhua News Agency, the cargo ship had cast two anchors and was in no immediate danger of sinking. The crew are safe and their rescue was being attempted last night.
In Shanghai, a code yellow storm alert was announced yesterday afternoon with rescue and contingency plans being made.
Some Special Olympics events were moved indoors or rescheduled.
The rehearsal of the closing ceremony, scheduled for today, will be postponed until tomorrow.
By 5pm, people living along the coastline, rivers, and in temporary or dilapidated housing in Jinshan, Fengxian, Nanhui, Pudong and Chongming were evacuated.
Schools and work in Shanghai will continue as usual today but rescue teams are on standby for any emergency.
Typhoons regularly hit China, the Philippines and Japan from August through to the end of the year, gathering strength from the warm waters of the Pacific or the South China Sea, before weakening over land.
On Saturday, Typhoon Korsa hit Taiwan, resulting in blackouts to more than 2 million households and causing 5 deaths.