China is planning to readjust its public holidays to relieve the increasingly heavier burden placed on its hot tourist attractions during the "Golden Weeks", officials from the China National Tourism Administration was quoted as saying by Hong Kong-based Wen Wei Po.
The newspaper on Monday said that the administration had drafted a proposal suggesting several adjustment strategies. The proposal is expected to be sumbitted to the National People's Congress for discussion.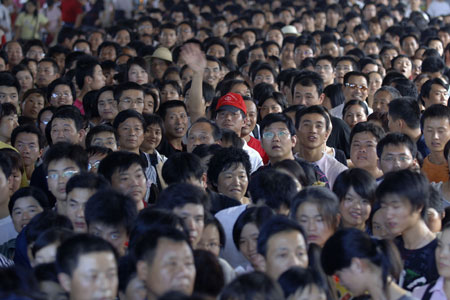 People flock into a railway station in Hefei, East China's Anhui Province October 6, 2007. China's National Day which falls on October 1, was first officially extended to a week-long holiday in 1999. The National Day holidays have become a "golden week" for the economy with more people being encouraged to travel across the country. [Xinhua]
At the close of the nation's National Day holidays, also the 21st "Golden Week" since the system was introduced in 1999, golden weeks over the past eight years have brought about huge returns for the nation's tourism industry. However, voices calling for cancellation of the nationwide holidays are becoming ever stronger as such travels have posed big pressures on nationwide transportation, accommodation and environmental protection.
According to a survey launched by a mainland media outlet, 61.46 percent of a total of 3,071 participants in the survey are in favor of making changes to such public holidays.
Experts also say that current week-long holidays that fall on every May 1 and October 1 are not an ideal way for people to take a break. Holiday makers blindly follow the overwhelming push of the tourism administration to rush between different sight-seeing spots without even taking enough rests. Moreover, these travelers have also caused a big headache to accommodation and transportation services in tourist locations, said Wang Jianmin, a researcher from the Tourism Research Centre of the Chinese Academy of Social Sciences.
The survey also finds that there is an increasing number of advocates who suggest the prolonging of rest days over traditional Chinese festivals, such as the Dragon Boat Festival and Mid-Autumn Festival.