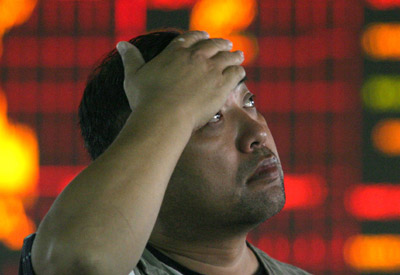 An investor monitors stock price movement at a brokerage in Changchun, Northeast China's Jilin Province August 9, 2007. [newsphoto] 
China's stock market capitalization topped the country's Gross Domestic Product (GDP) for the first time on Thursday as a key stock index hit a fresh record high for a fifth straight session.
The benchmark Shanghai Composite Index rose 1.95 percent to close at 4,754.09 points, while the Shenzhen Composite Index went up 1.51 percent to 1,348.87.
That made the overall value of the two bourses surpass the 21.087 trillion yuan in GDP in 2006, according to data from China Securities Journal.
Blue chip stocks were the main market drivers. The Industrial and Commercial Bank of China increased 2.67 percent to close at 6.54 yuan per share, while China Merchants Bank gained 5.49 percent to 36.10 yuan.
Ping An Insurance of China moved closer to the 100-yuan mark after a 7.41 percent growth, closing at 94.45 yuan. Its rival China Life followed with a 2.08 percent rise to 49 yuan.
In the property sector, China Vanke jumped 9.51 percent to 35.34 yuan. Oil also contributed to the rise, with Sinopec increasing 1.81 percent to 15.15 yuan.
Steel shares were also strong, with Baosteel surging 7.03 percent to 16.28 yuan. Shares in Aluminium Corp. of China reached 32.65 yuan after rising 5.46 percent.
The market will continue the upward trend in the days to come, boosted by bank and property shares, said Qin Hong, an analyst with Bohai Investment Consulting Co.
"It is highly possible for the Shanghai Composite Index to reach 5,000 points," Qin said.
However, several other experts douted the optimism. As the index climbs higher, profit-taking pressure also increases, they said.
Thursday's rise came even after the central bank expressed concerns about accelerating inflation, raising the possibility for further monetary tightening, including interest rate hikes.
The country is coming under increasing pressure from price hikes, the People's Bank of China said in its second-quarter monetary report published on Wednesday. It warned food price increases could spread to other consumer products.
The Consumer Price Index, a barometer of inflation, grew 4.4 percent in June and 3.2 percent in the first half of the year, above the 3.0 percent official target. In response, the central bank raised the interest rates on July 20, the third hike so far this year.
Many analysts expect inflation to surpass five percent in July. The official figure is due to be released on Monday.