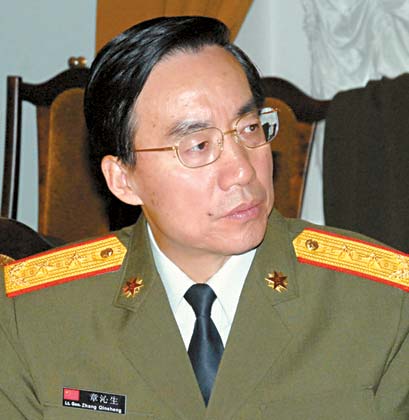 File photo of Zhang Qinsheng, Deputy Chief of General Staff of the PLA

The Chinese People's Liberation Army (PLA) will not engage in any arms race and its development poses no threat to any country.

That was the firm reassurance from Lieutenant-General Zhang Qinsheng, Deputy Chief of General Staff of the PLA, who said the Chinese army is modernizing to increase its combat abilities in the information age.

The PLA's modernization is open and based on cooperation, said Zhang in an interview with China Daily.

"We do not conceal our intention to build a strong and modern national defense. But we also tell the world candidly that the Chinese defense policy is always defensive in nature'," said Zhang.

The modernization of the Chinese armed forces aims to achieve the ability to defend national sovereignty, security and reunification of the country, according to Zhang, who is in charge of PLA's foreign affairs.

"China has never joined any military alliance, never sought military expansion, nor built overseas military bases," he pointed out.

The lieutenant-general said that a lack of understanding and communication has led to misunderstanding, which resulted in suspicions, concerns and even strong criticism of China's military development.

Quoting an ancient Chinese saying "Seeing is believing", he welcomed more foreign friends to visit the Chinese armed forces themselves. Zhang said that the PLA has invited foreign military observers and military attaches in Beijing to observe live-ammunition war games.

The Chinese army is taking "pro-active and pragmatic" measures to improve transparency of national defense, said Zhang, citing the release of five White Papers on national defense as an example.

The documents painted a clearer picture of China's national defense policy as well as its military development.

At the end of last year, China published the fifth White Paper China's National Defense in 2006 which for the first time put forward China's national security strategy, and also for the first time made public China's nuclear policy and the vision of development of the PLA services and arms.

On foreign exchanges this year, Zhang said the PLA will hold joint military manoeuvers in Russia with members of the Shanghai Cooperation Organization and continue high-level exchange of visits between the Chinese and US armies.