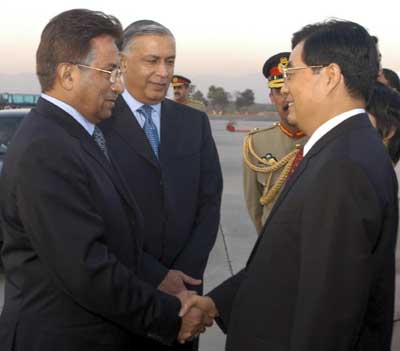 Pakistan President Perves Musharraf (L) greets China's President Hu Jintao upon his arrival at a military base in Rawalpindi, near Islamabad, November 23, 2006, as Prime Minister Shaukat Aziz (2nd L) looks on. [Reuters]


President Hu Jintao will seek to deepen China's decades-old friendship with Pakistan on Friday when the two neighbors are due to sign a broad range of economic agreements, including a free trade pact.
Special coverage:
Hu Visits Pakistan

Related readings:
President Hu begins state visit to Pakistan
China, India trade to hit US$20b this year
Hu visits Ganhdi memorial
Hu aims to boost trust with India
China, India hope trade to reach US$40B in 2010
Hu visits India to boost ties
Hu Jintao visits India
Hu arrives in India for state visit
Bilateral ties get a push
Experts: Dialogue best way to avoid rivalry
Bilateral ties get a push
Chinese, Indians share similarities
Hu arrived in Pakistan on Thursday on the first visit by a Chinese president in a decade. His visit also marks the 55th anniversary of diplomatic relations which analysts describe as Pakistan's most stable.

The agreements to be signed will include the fields of industry, agriculture, energy, as well as the trade deal, a senior Pakistani government official said.

Trade between the two countries rose 39 percent last year to US$4.26 billion and they hope to increase that substantially with the free trade agreement (FTA).

Salman Bashir, Pakistan's envoy to China, said a free trade agreement will be the most important document signed during Hu's four-day visit, the first by a Chinese leader to this Muslim nation in 10 years.

"We are expecting to take volume of bilateral trade to US$15 billion within the next five years with the implementation of the FTA (free trade agreement)," Bashir told the state-run Associated Press of Pakistan.

The Chinese leader was greeted at Islamabad's international airport by Pakistani President Gen. Pervez Musharraf, Prime Minister Shaukat Aziz and the entire Cabinet as well as the heads of each of the defense services.

Artillery blasted a 21-round salute, a brass band played China's national anthem, drum-beating musicians performed traditional songs and scores of school children waved miniature Chinese and Pakistani flags. Hu was later driven in a heavily guarded convoy for a banquet at Pakistan's presidency building.

In an arrival statement, Hu said his visit was aimed at "deepening friendship, expanding cooperation and planning the future of our relationship."

China already provides Pakistan nuclear and defense industry assistance and is its third-largest trading partner, after the United States and the European Union.

Pakistan is expected to buy large-ticket weapons worth at least US$10 billion in the next five years - at least 4 billion from China alone. The weapons include the Chinese-Pakistani produced JF-17 fighter planes, the F-22 Chinese frigates and Chinese components for the Pakistani military¡¯s new main battle tank known as "Al-Khalid," reported CBS' Farhan Bokhari from Islamabad.

In New Delhi, Hu offered his assistance, if asked, to help resolve lingering disputes between Pakistan and its nuclear-armed archrival India, but added that he would not choose sides between the neighbors, who have fought three wars since their 1947 independence, including two over the Himalayan Kashmir region.

"I look forward to having in-depth exchange of views with President Pervez Musharraf and other Pakistani leaders (on) bilateral relations as well as international and regional issues of mutual interest," state-run Pakistani TV quoted Hu as saying.

In what is expected to be the first of several economic deals made during Hu's trip, Pakistan and Chinese officials agreed to establish a joint investment company, involving the China Development Bank, to undertake urban and rural infrastructure projects in Pakistan.

Dr. Salman Shah, finance adviser to Pakistan's prime minister, said the agreement was reached during talks he held Thursday with the vice governor of the China Development Bank, the state-run agency reported.

China will provide "necessary financial support" in the industrial, services, agricultural, health care and education sectors, Shah said.

Pakistan is an impoverished country of 160 million people which has been seeking increased foreign investment to help boost its infrastructure and industry demands, as well as expand much-needed energy sources.

Bashir, the ambassador, said China and Pakistan have established a framework to expand energy cooperation. They will investigate building an energy corridor providing Beijing access to oil and gas resources of Central and Western Asia and developing oil refining and storage facilities in Pakistani coastal areas.

China's official Xinhua news agency has reported that China would conclude an accord with Pakistan in November to sell Islamabad reactors for six nuclear power plants to be built during the next 10 years.

On Friday, Hu holds talks with Musharraf and Aziz before delivering a live televised address to the nation. On Saturday, he travels to the eastern city of Lahore for further talks with political and business leaders.