Bilateral trade between China and India is expected to hit US$20 billion this year, fulfilling the target set by both governments two years ahead of schedule.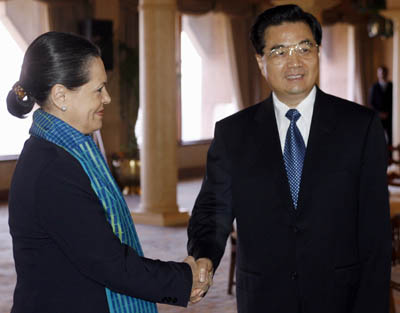 China's President Hu Jintao (R) shakes hands with Chief of India's ruling Congress party Sonia Gandhi before their meeting in New Delhi November 21, 2006. India and China agreed on Tuesday to boost trade and renew efforts to solve their border dispute, adding there was enough room for the Asian giants to grow together while remaining sensitive to the other's concerns. [Reuters]


The information was revealed by the Ministry of Commerce spokesperson Chong Quan. The prediction was based on the fact that imports and exports between the two countries hit US$17.9 billion in the first three quarters of the year.

"China and India are complementary in trade," Chong said. "And the potential is large."

The 45 per cent average annual growth in trade has made China India's second largest trading partner after the United States, and helped India become China's 11th largest trading partner.

According to a study undertaken by the Associated Chambers of Commerce and Industry of India, Sino-Indian bilateral trade is likely to touch US$50 billion by 2010.

China and India enjoy great potential in economic co-operation, said Zheng Ruixiang, former ambassador to India. He added that China is advanced in hardware and manufacturing sectors while India is good at software and services industries.

He said both governments are striving to promote bilateral trade and investment flows, and "China's national policy to develop the Western region is expected to further boost co-operation in the sub-region."

In another development, China's foreign direct investment (FDI) to India climbed to US$48.47 million by September, touching sectors including communications and light industry. India's realized investment in China's non-financial sectors totalled US$136 million.

Chong said it is just the beginning of bilateral investment.

However, the Indian Government sought to restrict Chinese FDI in strategic sectors such as airports, ports, telecommunications and information technology.

In September, the Indian Government directed the Chennai and Mumbai port trusts to reject a bid by Hutchison Port Holdings on security grounds.

The same happened in a US$4 billion tender for a GSM telephone system floated by Indian government-controlled Bharat Sanchar Nigam Ltd. China's ZTE communications and US Motorola were rejected, a sign that entry into India's booming infrastructure market is not going to be easy.