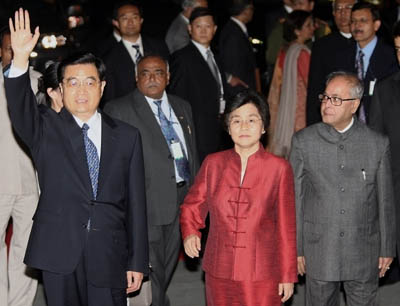 China's President Hu Jintao (L) waves upon his arrival as his wife Liu Yongqing (C) and Indian Foreign Minister Pranab Mukherjee (R) watch at New Delhi's airport November 20, 2006. [Reuters]


President Hu Jintao said in New Delhi Tuesday that Beijing hopes to strengthen the traditional amity of relationship between China and India, and to build a lasting mutual trust between the world's two most populous states.

The Chinese top leader, who arrived in New Delhi late Monday for a four-day visit -- the first by a Chinese president in a decade and the second ever -- was given a formal military welcome at the British-built president's palace, ahead of talks with Indian Prime Minister Manmohan Singh.

Both Asian giants are keen to develop their relationship, which is now marked by burgeoning two-way trade and personnel exchanges. Their bilateral ties is somewhat dogged by mistrust ever since a brief border war in 1962. The two are yet to settle their disputes over two frontiers of their borders.

"China and India are friendly countries and the exchanges of friendship between our two peoples date back centuries," Hu told reporters after the welcoming ceremony.

"So the purposes of my visit to India is to strengthen our friendship, increase our mutual trust, expand our cooperation and chart a course for the future," he said.

Political analysts said that both India and China need to talk to each other regularly as they rise economically and politically on the world stage.

"They cannot afford mistrust and misperceptions," said Srikanth Kondapalli, a China expert at New Delhi's Institute for Defence Studies and Analyses.

China, for its part, is warily watching India's increasing proximity to the United States, where the administration has promoted legislation to allow nuclear cooperation with India for the first time in three decades.

Hu said he was looking forward to "deep-going" discussions with Indian leaders on issues of shared interests and working with them to further develop a strategic partnership.

"We have differences, but we want to build a cooperative relationship that is as wide and as deep as possible so that these differences lose their salience," a senior Indian foreign ministry official said.

Despite this, however, trade has surged as the two giants liberalize their economies.

Bilateral trade has climbed from just $260 million in 1990 to a projected $20 billion in 2006/07, and is expected to continue growing. But there are still concerns on both sides.