ISLAMABAD: President Hu Jintao flew into the capital city of Pakistan from Mumbai of India on Thursday to start his four-day official visit, which is expected to give a boost to the already friendly relationship.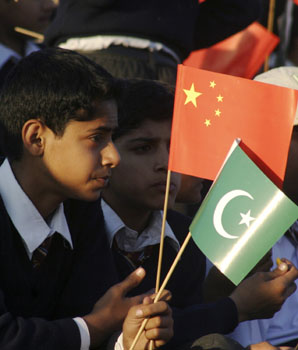 Pakistani school children hold Pakistani and Chinese national flags as they welcome Chinese President Hu Jintao in Islamabad November 23, 2006. Hu arrived in Pakistan on Thursday for a visit that is expected to cement an "all-weather relationship" underpinned for decades. [Reuters]


He will hold talks with his Pakistan counterpart Pervez Musharraf, Prime Minister Shaukat Aziz and parliament leaders on Friday, which will focus on bilateral ties as well as international issues of common concerns such as Afghanistan, Iran, Iraq and Lebenon.

The two countries will sign "unprecedented agreements" during Hu's visit, which is the first in one decade by a Chinese president, according to Chinese officials.

They will ink a five-year development programme for bilateral economic and trade co-operation, which will be the first-ever agreement for China to sign with another country. Other accords will be related to defence, energy, health, education, railway and communication fields.

During his two-day visit to Islamabad, Hu will also address a reception to be hosted by the Federation of Pakistan Chamber of Commerce.

Hu will then travel to the eastern Pakistan city of Lahore, where he and Pakistan counterpart Musharraf will attend the inauguration ceremony of the Haier-Ruba economic zone, the first of the eight economic zones to be established outside China.

The city of Islamabad has been fully decorated with colourful posters and banners to welcome Hu' visit. The big portraits of Presidents Hu, Musharraf and Prime Minister Aziz could be seen along major avenues in the city.
Special coverage:
Hu Visits Pakistan

Related readings:
China, India trade to hit US$20b this year
Hu visits Ganhdi memorial
Hu aims to boost trust with India
China, India hope trade to reach US$40B in 2010
Hu visits India to boost ties
Hu Jintao visits India
Hu arrives in India for state visit
Bilateral ties get a push
Experts: Dialogue best way to avoid rivalry
Bilateral ties get a push
Chinese, Indians share similarities
Thousands of personnel, including army, paramilitary and police, have been mobilized to beef up security in the city, according to local news report.

"The adjacent jungle and foliage areas of the metropolis have been scanned with sophisticated security equipment while horse-riding se3curity personnel would keep patrolling round the clock during Chinese president's stay in the capital," said local newspaper the News.

Local people all show great enthusiasm to Hu's visit.

"China and Pakistan have already enjoyed very traditional friendship, ever since late Chairman Mao Zedong and Premier Zhou Enlai," said Usman Ullah Tariq, a local business people.

"Our feeling towards China is from the bottom of hearts, and has nothing to do with politics," said Usman, who traveled to China's Xinjiang three years ago.