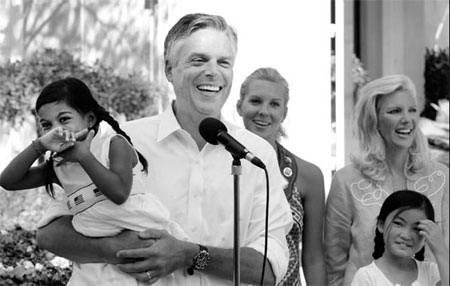 The new US Ambassador to China Jon Huntsman speaks to the media with his family: (from left) Asha, daughter Mary Anne, wife Mary Kaye and Gracie Mei, who was adopted from Yangzhou, Jiangsu province. [Photo by Wu Zhiyi/China Daily]
Jon Huntsman plans to meet President Hu Jintao this week, as the new United States ambassador to China and his family settle into their new Beijing residence.
Huntsman said in Beijing on Saturday that US President Barack Obama will make his first visit to China in mid-November. However, he gave no specific dates for the trip.
The 49-year-old Republican and former governor of Utah said he plans to spend the next few weeks meeting key Chinese government officials, as well as business and community leaders.
The ambassador defined his top priority here as "helping lay the foundation for sustainable growth in the region and the global economy".
Among other items on the agenda are climate change, energy, the environment and security issues like the situations in the Democratic People's Republic of Korea, Afghanistan, Pakistan and Iran, he said.
Full Coverage


 US Officials and China
Related readings:


 Huntsman in Beijing: Obama to visit China in mid-Nov


 Huntsman resigns as Utah governor to be ambassador


 Huntsman gets nod to represent US in China


 Clinton: Huntsman soon to be ambassador to China


 Great expectation on Huntsman
Although Obama's trip has been widely rumored, it had not been officially announced by Washington or Beijing, although both countries issued a statement after their presidents' first meeting in London in April, saying Obama will visit China in the second half of this year.
The White House announced Obama will attend the Asia-Pacific Economic Cooperation (APEC) forum in Singapore on Nov 14 and 15.
"After the president has been able to sit down with many of the leaders here in China, I am hopeful ... the US-China relationship will be stronger than ever," Huntsman said on Saturday.
Media in Japan and the Republic of Korea also reported Obama will use the opportunity of the APEC meeting to visit their countries.
There has also been speculation Obama will visit Indonesia, where he spent his childhood. It is not sure yet which country will be his first stop.
Yuan Peng, head of the institute of US studies under China Institutes of Contemporary International Relations, said compared to the detailed agenda of US Secretary of State Hillary Clinton's visit to China in February and the Strategic and Economic Dialogue in July, Obama's visit is focused mainly on forging a more stable and friendly atmosphere between the two interdependent nations.
"As far as I know, Obama will bring his family. It's a signal of the importance he attaches to China," Yuan said.
Huntsman arrived in Beijing with his wife and three of his seven children, including an adopted daughter from Yangzhou, Jiangsu province, China, late Friday.
Gracie Mei, 9, told China Daily it is the first time for her to come back and she is very excited. She will attend a local school.
Huntsman's youngest girl, 3-year-old Asha Bharati, accompanied his father throughout the speech and frequently disrupted him by knocking the microphone. Huntsman's wife said the girl, adopted in India, was excited to come to Beijing and enjoyed spicy Sichuan food very much.
"There has been a famous saying in Chinese for 2,000 years since the Han Dynasty that when the family is happy then all is well under heaven," Huntsman said.
"My family is very happy to come here to serve on behalf of the US government."
Huntsman served as governor of Utah from 2005 until his resignation on Aug 11 for the new task as ambassador to China.
"We just loved the job as governor of Utah but President Obama told me sometimes it's important to rise above politics and to be able to put personal ambition aside and pursue the things truly important for our country, like the US-China relationship, which we all believe to be the most important in the world," he said.
Both political and academic circles in the US and China view Huntsman as an ideal choice for the position, given his rich experience in Asia, his knowledge in the fields of diplomacy and clean energy fields, as well as the fact he speaks fluent Mandarin.