SALT LAKE CITY: Gary Herbert was sworn in Tuesday as Utah's 17th governor following the resignation of Jon Huntsman, who is now the US ambassador to China.
Herbert took the oath of office at the Utah Capitol about an hour after the resignation of Huntsman.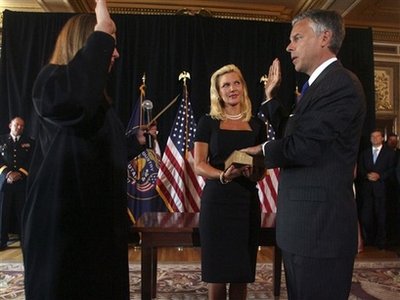 Gov. Jon Huntsman, right, is sworn-in by Judge Michele Christiansen as Ambassador to China in the Gold Room while his wife, Mary Kay Huntsman, watches at the State Capitol in Salt Lake City on Tuesday, Aug. 11, 2009. [Agencies] 
Herbert had been serving as Huntsman's lieutenant governor.
Related readings:


 Jon Huntsman, Jr.


 Huntsman gets nod to represent US in China


 Great expectation on Huntsman


 Huntsman is missed as he leaves for China as ambassador


 Huntsman: I agonized over ambassador to China job
Huntsman is a moderate Republican who was the most popular governor in state history, winning re-election in November with a record 77 percent of the vote.
Before being tapped by President Barack Obama as an ambassador, Huntsman had been considering seeking the Republican Party's presidential nomination in 2012.
For Huntsman, though, the offer of the ambassador job was one he said he couldn't refuse. Huntsman, who counts an adopted daughter from China among his seven children, has long been interested in Asia.
He's fluent in Mandarin Chinese, has led trade missions to the Chinese mainland and served a mission for the Mormon church in Taiwan.
Huntsman is also a former ambassador to Singapore.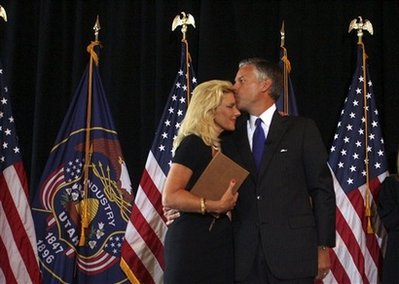 Gov. Jon Huntsman (right) kisses his wife, Mary Kay Huntsman, after signing his resignation document in the Gold Room at the State Capitol in Salt Lake City on Tuesday, Aug. 11, 2009. [Agencies]