Despite a fruitful beginning to build economic ties across the Straits, the rhetoric of Beijing and Taipei officials indicated there is a long way to go before political discussions to end hostility commence.
Chen Yunlin, the mainland's top envoy to Taiwan as president of the Association for Relations Across the Taiwan Straits (ARATS), said economic issues remain the key to cross-Straits talks.
But he also said close economic cooperation could inject momentum to peacefully develop bilateral ties.
President Hu Jintao has called for the start of political talks to end hostility and urged for the establishment of military trust mechanism across the Straits.
Chen made his remarks during his meeting with Lai Shin-yuan, chief of the island's "mainland affairs council".
Zheng Lizhong, vice-president of ARATS, shunned the question of when to start cross-Straits political talks after the Chen-Chiang meeting.
"We should continue to build kindness (by working on economic issues) and create conditions for solving political difficulties," he told reporters.
Chen held the fourth round of talks with Straits Exchange Foundation (SEF) Chairman Chiang Pin-kung yesterday, signing three economic agreements.
Related full coverage:


2009 Mainland-Taiwan Talks
Related readings:


 Fourth round of cross-Straits talks start


 More Taiwan tourists flock to Beijing


 Taiwan reaction mixed to mainland envoy


 Taiwan media praise cross-Straits agreements


 Mainland negotiator arrives in Taiwan
Lai yesterday hailed the achievements made by ARATS and SEF as beneficial to people on both sides.
A total of 12 agreements on economic issues have been inked since the resumption of talks between the two semi-official bodies in June last year.
"We must walk firmly along the way of systematic negotiations to avoid war and seek stable and peaceful ties in the Straits," said Lai. "This is the right path to handle cross-Straits relations."
She stressed that both sides should cherish the hard-won peaceful and stable situation across the Straits.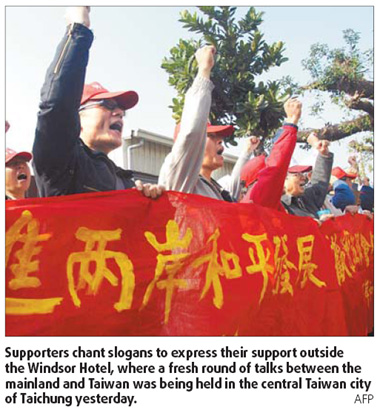 Since taking power in May last year, Taiwan leader Ma Ying-jeou of the ruling Kuomintang has been pushing for better ties with the mainland, in contrast with his pro-independence predecessor Chen Shui-bian, who created tension during his eight-year term.
Ni Yongjie, a scholar at the Shanghai Institute of Taiwan Studies, said the agreement signed yesterday is going deeper to the roots of Taiwan society and affecting more citizens.
The agreements concerning the fishing industry and agricultural quarantine inspection will affect fishermen and farmers mainly living in the middle and southern parts of the island, which is the strong political base of the pro-independence Democratic Progressive Party. "A new cooperation pact will reap profits for (the fishermen and farmers) and alleviate their hostility to the mainland," Ni said.
Ni said the ARATS-SEF talks has become a vital link in realizing the normalization of cross-Straits economic and trade ties. "But we cannot underestimate the importance of economic and trade negotiation, it is a precious opportunity for both sides to accumulate motive, trust and find solutions to tackle the difficult topics regarding politics or military," he said.