TAICHUNG, Taiwan: Beijing's top envoy to Taiwan said he respected the rights of demonstrators who filled the city's streets yesterday to protest his trip as he attempts to build closer ties across the Straits.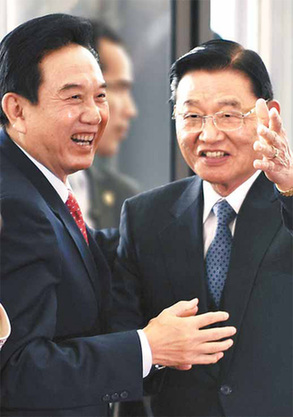 Chen Yunlin (left), president of the Association for Relations Across the Taiwan Straits, is greeted by Chiang Pin-kung, chairman of the Straits Exchange Foundation, in Taichung yesterday. The two are scheduled to hold talks today. [Agencies]
Chen Yunlin, president of the Association for Relations Across the Taiwan Straits (ARATS), arrived for high-level trade talks scheduled to start today and was greeted by tens of thousands of anti-mainland demonstrators and mainland-friendly sympathizers.
Related full coverage:


2009 Mainland-Taiwan Talks
Related readings:

 Mainland, Taiwan could not sidestep political, military issues


 Mainland's delegation leaves for talks in Taiwan


 Taiwan chief negotiator agrees to stay in position


 Taiwan Bank to set up Shanghai bureau
The mixed reaction in the west-central city of Taichung indicates that views are split among the island's population of 23 million toward its push for better ties with the mainland.
Security for Chen was tight yesterday as he was driven into the city from the heavily guarded Taichung Airport. About 5,000 officers have been deployed during his visit.
He is due to hold talks today with his Taiwan counterpart, Chiang Pin-kung, chairman of the Straits Exchange Foundation (SEF). It is their fourth meeting since island leader Ma Ying-jeou of the Kuomintang took power in May last year.
Most of the demonstrators were organized by the opposition pro-independence Democratic Progressive Party.
Outside the Windsor Hotel where Chen is staying, crowds of demonstrators stood beyond a line of barbed wire, chanting pro-independence slogans, waving anti-mainland banners and blasting air horns. But hundreds of demonstrators, mostly elderly people, also shouted slogans to support Chen's visit for "peace and development" in cross-Straits relations.
"On my way (to the hotel), I saw many compatriots who oppose my visit and others who welcome me here to engage in talks for a mutual win-win. I definitely respect the expression of different opinions and thank those who welcome us," said Chen, who was smiling broadly after being whisked inside the hotel.
Despite the protests, Chen told his hosts that Beijing wants to "move down the road of peace."
"History has proved and will prove that the two sides are marching ahead on the right path," he told reporters. "We want to move down the road of peace."
Both sides across the Straits will officially begin discussions on the long-expected economic co-operation framework agreement after Chen and Chiang hold initial talks on the deal today.
Chen is expected to sign three agreements on fishing cooperation, agricultural quarantine inspection and industrial product standards today. He will attend a business conference on Wednesday and tour the island on Thursday before leaving on Friday.
Negotiators from both sides decided yesterday not to sign a deal rejecting double taxation across the Taiwan Straits due to "technical reasons."