Matthew McConaughey wins at SAG Awards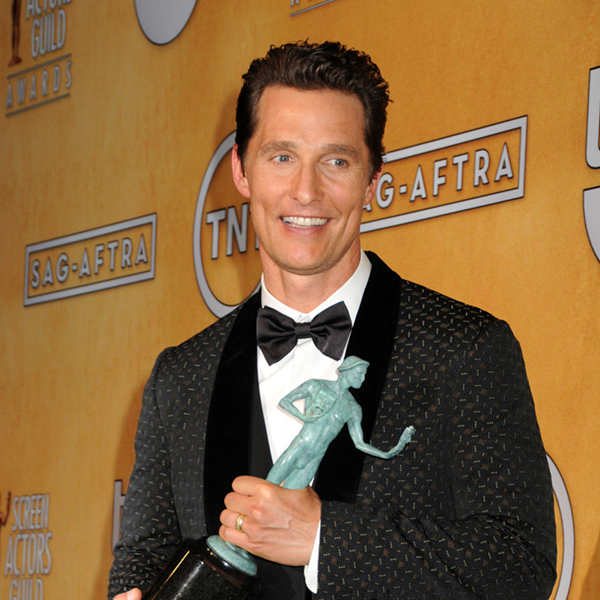 Matthew McConaughey [Photo/Agencies]
Matthew McConaughey helped 'Dallas Buyers Club' win big at the 20th Annual Screen Actors Guild Awards on January 18.
The star picked up the prize for Outstanding Performance by a Male Actor in a Leading Role for his role as AIDs patient Ron Woodroof in the biographical drama, and he told people to "just keep living" in his acceptance speech.
He said: "There's a man I met 20 years ago. He escaped Russia. He was not even a carpenter, built a 17-foot boat and sailed across the Atlantic for decades he held the world record for smallest vessel single-man sailed across the Atlantic.
"He told me this, he said, 'A genius can be anybody he wants to, but a genius is always one person at a time.' So to that I say, that's what we get to do, isn't it?
"One man, one woman, one human. At a time. When we do it well. Just keep doing that. Just keep living."
Matthew's co-star Jared Leto also picked up an award for Outstanding Performance by a Male Actor in a Supporting Role thanks to his performance in the movie.
20th Annual Screen Actors Guild Awards:
Outstanding Performance by a Male Actor in a Leading Role - Matthew McConaughey, 'Dallas Buyers Club'
Outstanding Performance by a Female Actor in a Leading Role - Cate Blanchett, 'Blue Jasmine'
Outstanding Performance by a Male Actor in a Supporting Role - Jared Leto, 'Dallas Buyers Club'
Outstanding Performance by a Female Actor in a Supporting Role - Lupita Nyong'o, '12 Years A Slave'
Outstanding Performance by a Cast in a Motion Picture - 'American Hustle'
Outstanding Action Performance by a Stunt Ensemble in a Motion Picture - 'Lone Survivor'
Outstanding Performance by a Male Actor in a Drama Series - Bryan Cranston, 'Breaking Bad'
Outstanding Performance by a Female Actor in a Drama Series - Maggie Smith, 'Downton Abbey'
Outstanding Performance by a Male Actor in a Comedy Series - Ty Burrell, 'Modern Family'