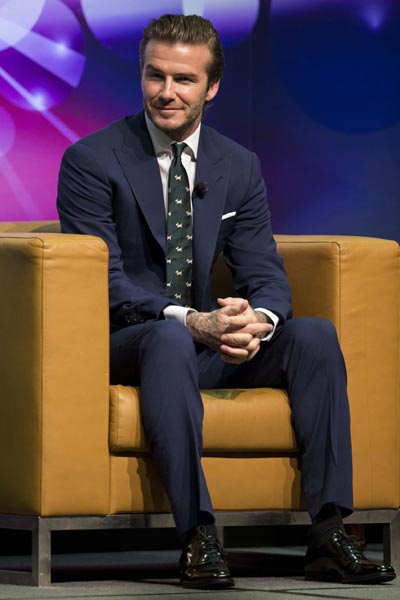 Former England soccer team captain David Beckham says he is more a businessman now. Tyrone Siu / Reuters
Although retired from sports, David Beckham still commands huge attention.
Hours before he showed up in a conference room at luxury hotel and casino resort Venetian Macao last week, journalists from about 500 media houses had already waited in long lines to get a close-up position to the celebrity.
When he appeared, there was no sound except clicking from countless photoflashes.
But this time, Beckham presents himself as businessman, rather than an entertainment celebrity, as he announced a long-term partnership between his company Beckham Ventures and global resort developer Las Vegas Sands, which owns Venetian Macao.
He has retired as a pro athlete and will focus on business and charity. Beckham emphasizes: "I'm extremely excited.
"My business started a few years ago, but my focus was on playing (soccer) at that time. Now I'm becoming more of a businessman."
He also said leadership, teamwork and hard work are important in sports, and it's the same with business.
For more coverage on David Beckham, click here