Angelina Jolie receives humanitarian award from Academy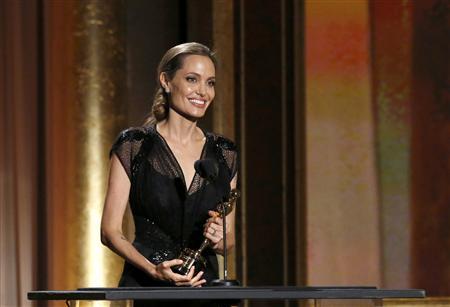 Actress Angelina Jolie accepts the Jean Hersholt Humanitarian Award at the 5th Annual Academy of Motion Picture Arts and Sciences Governors Awards at The Ray Dolby Ballroom in Hollywood, California November 16, 2013. [Photo/Agencies]
The Hollywood film industry recognized Angelina Jolie on Saturday with a humanitarian award for her work with refugees and advocating for human rights through her film career.
Actors Angela Lansbury and Steve Martin and costume designer Piero Tosi also received what are called "honorary Oscars" for their contributions to film at the annual Governors Awards from the Academy of Motion Picture Arts and Sciences.
In a celebrity-packed room, with partner Brad Pitt and Cambodia-born son Maddox by her side, Jolie was introduced by Bosnian and Serbian cast members from her directorial debut, "In the Land of Blood and Honey." They thanked her for giving those who lived the Balkan war a chance to express themselves.
The 38-year-old Oscar winner is a special envoy to the United Nations High Commissioner for Refugees and has made more than 40 field missions, including recently to help refugees fleeing the war in Syria.
Upon receiving the Jean Hersholt Humanitarian Award from director George Lucas, Jolie remembered her late mother who encouraged her to live a life of use to others, although the actress said it took time for her to realize what that meant.
"When I met survivors of war and famine and rape, I learned what life is like for most people in this world," Jolie said.
"I realized how sheltered I had been," she added, "and I was determined to never be that way again."
Past winners of the humanitarian award include Elizabeth Taylor and Paul Newman.
Related:
Angelina Jolie, Steve Martin to receive honorary Oscars