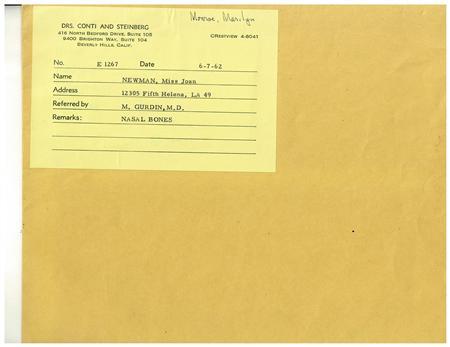 A folder containing notes and X-rays of Marilyn Monroe by Hollywood plastic surgeon Michael Gurdin is seen in this handout photo provided by Julien's Auctions in Beverly Hills, California October 7, 2013.[Photo/Agencies]
A physician's notes on Marilyn Monroe that indicate that the Hollywood sex symbol had undergone cosmetic surgery will be up for sale next month along with a set of her X-rays, an auction house said on Tuesday.
The set of six X-rays and a file of doctors' notes that offer a partial medical history of the "Gentlemen Prefer Blondes" actress from 1950 to 1962, are expected to fetch between $15,000 and $30,000 at auction on November 9-10, said Julien's Auctions in Beverly Hills, California.
The notes written by Hollywood plastic surgeon Michael Gurdin appear to confirm speculation that Monroe, who epitomized glamour and set a standard of movie star beauty during the latter part of Hollywood's golden era, went under the knife for cosmetic reasons.
The seller, who is so far unnamed, received the items as a gift from Gurdin.
"Nobody really thought about Marilyn Monroe having plastic surgery. It was always speculation - did she or didn't she?" said Martin Nolan, executive director of Julien's Auctions. "They thought she was such a natural beauty, they didn't want to believe."
Gurdin's notes include references to a 1950 cartilage implant in Monroe's chin, which he observed to have slowly begun to dissolve.
Monroe's biggest films, such as 1953's "How to Marry a Millionaire," 1955's "The Seven Year Itch" and 1959's "Some Like It Hot," were all shot after 1950.
"Also at that time, going back to the 1950s, people didn't go for plastic surgery procedures," Nolan added. "This is very, very new."
Related:
Actor Tom Hanks says he has type 2 diabetes
Huang Shengyi poses for STORY magazine