'Iron Man' Robert Downey Jr. leads Forbes' highest-paid actors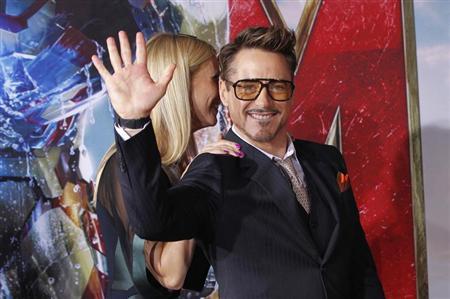 Cast member Robert Downey Jr. waves next to co-star Gwyneth Paltrow at the premiere of "Iron Man 3" at El Capitan theatre in Hollywood, California April 24, 2013.[Photo/Agencies]
With estimated earnings of $75 million, "Iron Man" Robert Downey Jr. is Hollywood's highest paid actor, ahead of Channing Tatum and Hugh Jackman, according to Forbes.com.
Downey, 48, starred in Disney's Marvel superhero films "The Avengers" in 2012 and "Iron Man 3" in 2013, each of which earned more than $1 billion at the box office, assuring him the top spot in the annual ranking of Hollywood's top acting earners.
"Every studio in town would love to cast him, and now they'll pay big buck for the privilege," Forbes.com contributor Dorothy Pomerantz said about Downey on Tuesday. Forbes.com estimated his earnings between June 2012 and June 2013.
New father Tatum, 33, who self-financed the male-stripper movie "Magic Mike" that made $167 million with director Steven Soderbergh, captured the No. 2 spot with estimated earnings of $60 million. Australian actor Jackman, 44, whose new movie "The Wolverine" opens in US theaters next week, was not far behind with $55 million.
Mark Wahlberg, 42, had a comedy hit with "Ted," a film that earned $550 million and pumped up his earning to $52 million to secure fourth place, and wrestler-turned actor Dwayne 'The Rock' Johnson, 41, rounded out the top five with $46 million.
Johnson starred in "Fast and Furious 6," which made $500 million at the box office in less than two weeks, and "G.I. Joe: Retaliation."
Adam Sandler, 46, at No. 7, was the only comedian to make the top 10 thanks mainly to the animated hit "Hotel Transylvania," which grossed $347 million and helped bump his earnings up to $37 million.
Denzel Washington, 58, took a cut in pay in exchange for a share of the profits for "Flight," which turned out to be a shrewd deal. The film made $162 million putting the Oscar winner in eighth place with earnings of $33 million.
Last year, Tom Cruise, 51, topped the list with earnings of $75 million. This year, he dropped to eighth place with $35 million, gained largely from his international audience, Forbes said.
Forbes.com compiled the ranking and estimated earnings by talking to managers, producers and agents.
The full list can be found on www.forbes.com.