Yue-Sai Kan: Life is a competition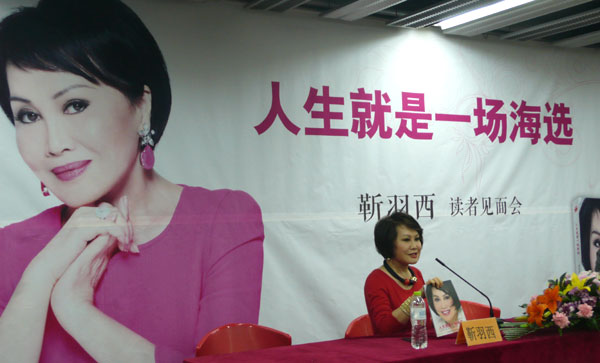 Yue-Sai Kan talks about her book, Life Is a Competition, at the Zhongguancun Bookstore in Beijing on March 26, 2013. [Photo/chinadaily.com.cn]
On the afternoon of March 26, fashion icon Yue-Sai Kan unveiled her latest book, Life Is a Competition, at the Zhongguancun Bookstore in Beijing.
The event attracted a large crowd of readers, fans, journalists and even a few contestants from last year's Miss Universe China pageant.
Drawn from the last two years of her life as the national director of Miss Universe China, Yue-Sai Kan wrote this self-help book for the purpose of motivating young women throughout China's modern cities.
Within the pages of her latest tome, the Chinese-American TV celebrity not only tells Chinese woman how to win life's competitions, but also explains why life must be a competition.
"In the case of our life today, competition is everywhere. Even a baby has to compete for a kindergarten seat," said Yue-Sai.
Referring to the Miss Universe pageant, Yue-Sai said, "The whole country is like an ocean, so how do you excel above everybody else in order to be an incredibly successful person? You need to have some tools to be the winner."
As an expert in the cosmetic industry, the beauty guru's book provides young women with advice on how to look good, and more importantly, on how a person can strengthen their inner self.
Related stories:
Exclusive interview with Yue-Sai Kan (Video)
Beauty expert praises First Lady style
Two words of pure pressure: Miss Universe
A lesson learned about attractiveness
A final look at fairest of them all