David Beckham considering China move?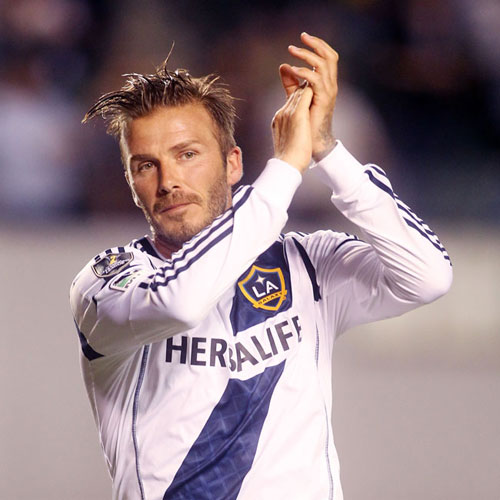 David Beckham is considering a move to China.
The soccer star - who announced last month he is quitting US club LA Galaxy - is reportedly in contract talks with Chinese Super League team Shanghai Shenhua, which could net him £250,000 ($404,119) a week and £20 million ($32.3 million) in merchandising deals.
Related: Romeo Beckham: New face of Burberry
A source close to David - who has children Brooklyn, 13, Romeo, 10, Cruz, seven, and 17-month-old Harper with wife Victoria Beckham - told the Sunday People newspaper: "He has cracked Europe and America, he now has the chance to become huge in China and the Far East. This is a huge decision for him.
"While David wants one final challenge in football, a move to China is about more than that. It will push Brand Beckham to a whole new level."
Should the 37-year-old star decide his final foray in soccer will be in the Far East then he looks likely to make a 22-hour and 11,000-mile round trip to China from the UK, where he will relocate from Los Angeles with his family.
One source added: "David always said he wanted one more challenge and he loves the idea of playing in China.
"It will undoubtedly make him a global star. He won't have just conquered Europe and America, but the Far East too. It is also appealing to Becks as it is very different to anywhere he has played before and he is keen to promote football in places where it isn't particularly high-profile.
"He is so passionate about the game and likes the idea that he can share that with people who don't already appreciate it.
"Talks have begun and while he is on his Christmas break he and Victoria are discussing it as a very serious option."
Related: Romeo Beckham won't appear in Vogue
Should Beckham - who has been linked with a host of top clubs including French sides Paris Saint Germain and Monaco, as well as a several English Premier League outfits - choose to sign for Shenhua then he looks likely to agree a deal next month before the Chinese club's new season begins in March.
Media and brand commentator Mark Borkowski believes a switch to China would be a "great move" for the England star.
He explained: "The Beckham Brand, or dynasty as it is now, will always have huge impact while David can play football.
"So if he can have an impact in China it is a great move. I'm sure he's looking for the best deal in his autumnal playing years."